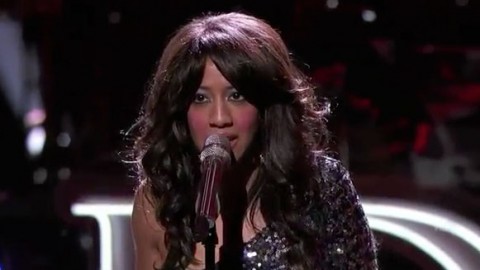 Camp Mariah prodigy Tenna Torres delivered a version of Natasha Beddingfield's "Soulmate" during last night's American Idol 2013 Las Vegas rounds and it earned her a spot in the Season 12 Top 20.
Ten girls were fighting for five spots last night and the judges seem to think Tenna has what it takes to fill one of those spots. I'm not sure I'd agree totally, based on this performance. It started out sweet and tender and I kept waiting on it build up into a powerful ballad, but it kind of just stayed there. It wasn't a bad performance, just not mind-blowing.
And I hate agreeing with Nicki Minaj on anything, but Tenna does need to work on her look.
Let's take another look and listen to her version of "Soulmate" and you tell me what you think. Does Tenna have what it takes to be the first female American Idol winner since Jordin Sparks?