This week on American Idol 2016 the Top 6 will be decided after another Double Elimination cuts through the remaining finalists and sends home two more contestants from the Top 8.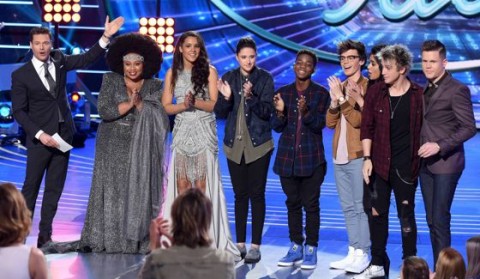 No official word yet on the return of a Judges Pick for the bottom three this week, but let's be realistic here and just assume they're going to decide who stays and who goes again this week as we're going to be down to just six singers by the end of the week.
There will only be one episode of American Idol 2016 this week and that airs on Thursday, March 10th at 8PM ET/PT for the two-hour show. Remember that all of March we'll have just one episode a week with no shows on Wednesday.
The big question this week will of course be who is going home with two more being cut. A quick glance at our Top 8 poll, which was spot on last week, again has Tristan and Avalon in the danger seats. Think they'll have pulled through by Thursday night and recovered from last week's near elimination?
American Idol has yet to announce any special guest performers this week so we'll wait to see who is taking the stage along with this season's Top 8 contestants. Until then, let's get ready for Thursday night's results and performance show as the new Top 6 are heading our way.
Be sure to find us on Facebook, Twitter, and get our Email Updates for more of the latest American Idol results, updates, and news for all of the Farewell Season as we head to the series finale on April 7, 2016. Read the full Idol schedule here.