Tonight on American Idol 2015 the Hollywood Week rounds continue with more solo performances and the always entertaining group numbers starting at 8PM ET/PT on FOX.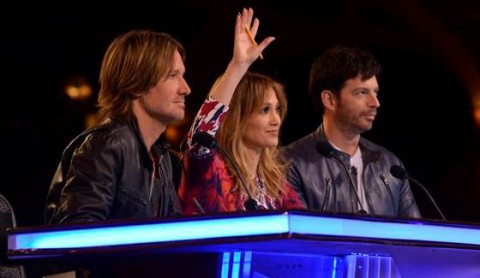 Last night on Idol we watched the most memorable auditions back in the spotlight for a surprise performance where they were all pushed through to the next round. Tonight the Hopefuls won't be so lucky on American Idol.
More cuts are ahead and there will be a lot of dreams left behind on that stage. 180 contestants on Season 14 face elimination after the first round's 38 singers were all given a pass. Now half of those remaining Hopefuls will be sent home before the next round: Groups!
Oh yes, the Groups are back and from the preview we've seen, this actually looks great! Could American Idol be cleaning up its act and getting rid of the disastrous, crumbling groups that don't hold it together? Oh I'm sure we'll still get those, so don't worry if you were hoping to watch a train wreck on stage.
Join us back here tonight starting at 8PM ET for our live coverage then find us on Facebook, Twitter, and get our Email Updates for all the latest American Idol results and spoilers sent right to you! We're excited about the season and hope you'll join us throughout.
American Idol 2015 – Behind the Scenes of Hollywood Week: