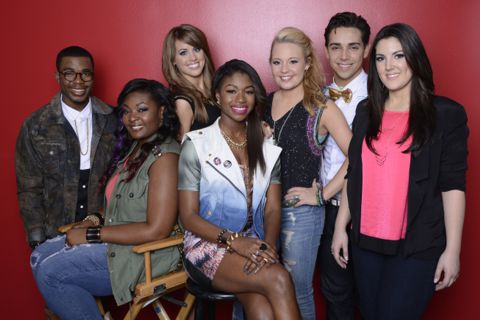 The Top 7 perform live tonight on American Idol 2013. Just seven finalists remain in the Season 12 competition and they'll be fighting for your votes as their numbers dwindle and another singer prepares for elimination.
Starting at 8PM on FOX the Hopefuls will take the stage and deliver Classic Rock songs, this week's theme for American Idol. Most importantly, the finalists are not allowed to perform any ballads so no soft moments tonight. We're gonna rock 'n roll all night!
Read the details on what songs have been recommended for tonight's performers to tackle and then share your thoughts on what each should do.
It's a busy week up ahead and not much time left in the competition as the American Idol 2013 winner will be crowned in mid-May at the season finale. With just two guys left in the race it looks more and more like we could have a top five of all ladies. That's an interesting change of pace from recent years and something producers have been salivating over for some time.
Join us tonight for a live recap of the American Idol Top 7 performances.