Update: It is confirmed that the theme for the week is Elvis songs and MJ  is reporting that a finalist from a previous season (1-7) will be performing on the result's show Wednesday night.  Any guesses?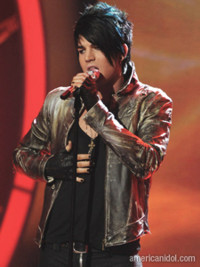 The big news is that Adam Lambert will guest mentor the contestants during the week and sing on the American Idol results show Wednesday.  Finally we will hear how a truly talented contestant should sing.  Or should I say former contestant.
Ryan teased us last night by saying we have a special theme coming up for next week but then didn't tell us what it was.  I read a couple different opinions from Queen to Teen Idols but they don't seem too realitistic to me.  For one why not get the members from Queen to mentor the kids like they have in the past and as far as Teen Idols, we've been there and had that one dropped. 
MJ seems to have the best theory.  A source has told told them that Lambert will mentor the contestants in Las Vegas at the Aria Hotel where Cirque Du Soleil is performing Viva Elvis.  Top Idol further confirms this by adding that Cirque Du Soleil will be featured as well on American Idol next week. 
With this news I'm being led to believe that the hopefuls will sing songs by the King of Rock and Roll.  What do you think?