Okay, so we know it is way too early to predict who wins American Idol 2014 season 13. However, we just couldn't' resist engaging in some seriously premature speculation on which one of the singers on our American Idol spoilers list of the Top 3o might take home the crown.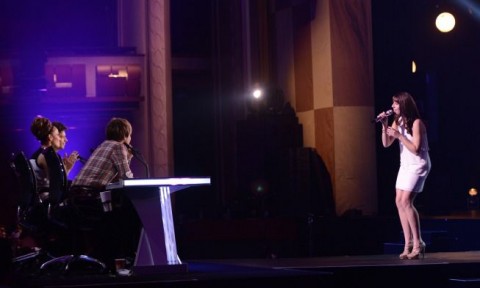 First of all, let's consider the fate of the two contestants who were left in limbo at the end of  Hollywood Week, Ben Briley and Neco Starr. American Idol judges Keith Urban, Harry Connick Jr., and Jennifer Lopez supposedly couldn't decide which one they wanted to have in the season 13 Top 30, so they temporarily named them both to the Top 31 instead.
The voters will choose which guy gets cut, with the results being announced at the start of next week. However, we honestly don't think either of them is likely to make it all the way to the finale regardless. Both guys are great, talented, and interesting. Honestly though, we just don't really see either of them as the kind of contestant that will garner enough votes to win this thing.
So, moving on to the rest of the American Idol Top 30 contestants. Currently we've made our own little list of Top 13 singers so far in the competition. Now we'll have to decide which one we think has the total package to end up as the one who won American Idol 2014.
Now, please note that our Top 13 prediction list is NOT just about talent. We aren't including some singers who are absolutely on our favorites list, but for some reason or another we don't think they will get voted to the Top 10. Of course, this is all just WILD speculation at this point.
Here's our Top 13  list prediction so far: Jillian Jensen, Austin Wolfe, Spencer Lloyd, Sam Woolf, Marialle Sellars, Majesty York, Jena Asciutto, Caleb Johnson, Alex Preston, C. J. Harris, Briana Oakley, Casey Thrasher, and Bria Anai Johnson.
From that incredibly speculative Top 10 list, we think the winner this year will NOT be a girl. So that leaves us with Spencer, Sam, Caleb, Alex, C. J. or Casey as possible picks if we were to get our Top 13 correct. (Which we won't, of course.)
If it did come down to choosing one of these guys as the ultimate winner, we'd have to go with Alex… or Casey. Call us crazy, but we feel it is the year of the somewhat quirky, cute but not boy band hot guy with serious musical skills. Or, in other words, a Phillip Phillips style repeat year. Last season was the year of the girl, this season, we think the guys will come out on top once again.