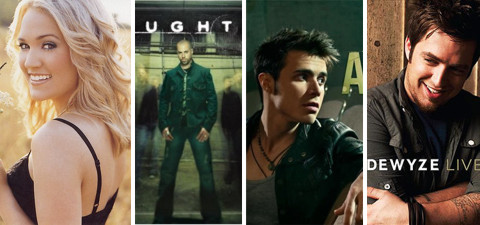 Tonight we learn who will win American Idol 2011, but does it really matter? Based on recent seasons there's a chance the season's big winner won't be the one wearing the crown when it comes down to debut album sales.
Going all the way back to season two you can see the winner, Studdard, being eclipsed by his challenger, Clay Aiken, though both had excellent sales numbers (1.7M and 2.7M, respectively). This scenario peaked in season 5 when Daughtry went on to sell almost five million albums while Taylor Hicks sold 705,000. But take a look at last season when winner Lee DeWyze became the absolute worst commercially performing Idol winner evah with just 136,000 debut albums sold. More people visited this site yesterday than bought Lee's album since its release. Runner-up, Crystal Bowersox, outperformed DeWyze but still sold under 200,000 albums.
Can that trend end tonight? If Lauren wins tonight American Idol's sales could be in serious trouble with a repeat of DeWyze's sales-bomb. IdolHeadEd has an interesting breakdown of this season's iTunes Idol Top 25 commercial sales to date and Lauren Alaina has just two entries: 19th and 25th. Meanwhile Scotty McCreery has 4th, 9th, and 24th. Those McCreery numbers aren't the most inspiring either. Haley Reinhart fans can take solace knowing she holds the top 3 iTunes sale spots along with #10 and James Durbin earned spots 5th, 6th, and 7th.
I know American Idol producers have been fighting tooth and nail to finally get a female winner after three seasons, but Lauren Alaina looks positioned to be more Lee DeWyze than Carrie Underwood and the producers will have to learn the hard way to keep their fingers out of the pie. If they wanted the big bucks, and I think we all know that's what this show is really about, then they should have stuck with Haley Reinhart rather than railroading her in to oblivion.
Perhaps the more important question, if Idol's ratings continue to trend downward since 2006 but still win the season, why are the album sales doing so poorly compared to the multi-million unit sales of the early seasons?
Past season winners' and challengers' debut album sales:
| | | |
| --- | --- | --- |
| Season | Winner Debut Sales | Challenger Debut Sales |
| #9 – 2010 | Lee DeWyze – 136,000 | Crystal Bowersox – 184,000 |
| #8 – 2009 | Kris Allen – 327,000 | Adam Lambert – 811,000 |
| #7 – 2008 | David Cook – 1,300,000 | David Archuleta – 765,000 |
| #6 – 2007 | Jordin Sparks – 1,000,000 | Blake Lewis – 309,000 |
| #5 – 2006 | Taylor Hicks – 705,000 | Chris Daughtry – 4,700,000 |
| #4 – 2005 | Carrie Underwood – 7,000,000 | Bo Bice – 673,000 |
| #3 – 2004 | Fantasia Barrino – 1,800,000 | Jennifer Hudson – 839,000 |
| #2 – 2003 | Ruben Studdard – 1,700,000 | Clay Aiken – 2,700,000 |
| #1 – 2002 | Kelly Clarkson – 2,700,000 | Justin Guarini – 146,000 |
Sales #'s source: Washington Post