ABC is allegedly working to assemble the American Idol 2018 Judges panel and hosting role ahead of next week's upfronts for the 2017-2018 season. Well they don't waste any time.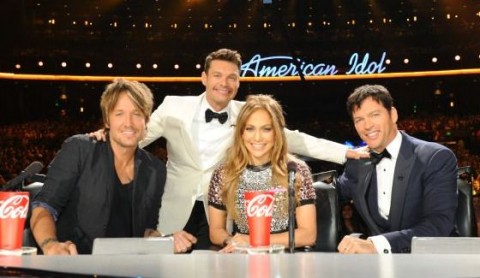 It was just confirmed on Tuesday that American Idol was coming back and here we are already hearing that ABC is trying to put together who will be sitting behind the big table and helping to decide the next winner of American Idol. So far we're hearing which past Judges are unlikely to be asked back.
Jennifer Lopez and Simon Cowell are most likely out of the running due to their very high price tags, but they weren't the only expensive members of Idol's talent. Ryan Seacrest was making $15 million a season for the hosting duties on Idol and unlikely to get that with ABC, but maybe he's willing to take a pay cut to return.
Looking to cut off other high wages, ABC is reported to be looking at new names for the panel, reports THR:
Untenable talent costs led to the show's initial demise. Pricey past judges Simon Cowell and Jennifer Lopez, both on NBC now, are said to be out. Agencies are pitching fresh judge talent…
Well I suppose that means Harry and Keith are out if they're looking at fresh talent. That's a shame since I did like both of them and wouldn't be surprised if either would also take a cut in pay to do the show since they seemed to have a genuine interest in the benefit they added.
One possible name floating around as a new judge on American Idol is Kelly Clarkson. It's an obvious choice and a great one if it works out. Kelly was the original American Idol winner and has always done a fantastic job when she's appeared on the series.
I'd be tickled with a Kelly, Keith, and Harry panel with Ryan hosting, but I think that's not terribly likely. If ABC is trying to go all-new behind the panel then maybe we could still get Clarkson there with two new judges, but I'd still expect them to work hard to bring Seacrest back to the American Idol reboot.
Source: Hollywood Reporter