American Idol 2014 Top 8 finalists Caleb Johnson and Jena Irene Ascuitto seem to be competing for who has the craziest face in their latest photo shoot. We aren't quite sure exactly why both of them decided to go full scream for their Top 8 portraits, but they look pretty hilarious!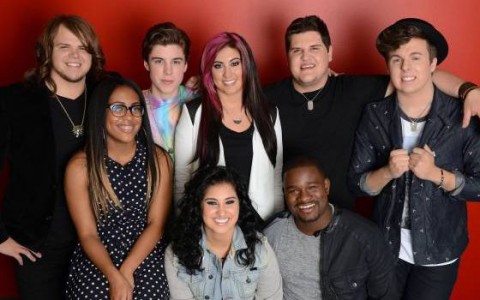 We've oddly noticed this year that the American Idol season 13 finalists seem to be enjoying themselves maybe a bit too much in their photo shoots. They are always giving wacky faces, and for some reason, are always doing weird things with their hands. What's up with that?
This week, for the American Idol 2014 Top 8 photo shoot, we once again have nearly all of the finalists throwing out some kind of hand gesture at the camera. But the most amusing two photos, we think, are of Caleb Johnson and Jena Irene Ascuitto. They seem to be battling for who can make the craziest face this week! Jess also gets a little wacky… but we think she just can't compete with these two!
Who do you think does crazy rocker face better, Caleb or Jena?
(Click the pics for bigger versions or to scroll through.)