Get ready for the return of Adam Lambert to American Idol on Thursday night as part of the Top 5 results and performance show on FOX.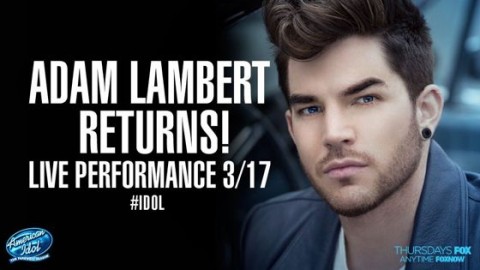 It was just last season that we got to enjoy Adam as a judge on American Idol, but now we get to see him back as a guest performer as well. Too bad they didn't repeat their magic with Kelly Clarkson earlier this year and let him do double duty this week. Missed opportunities!
In an interview with Extra, Lambert shared a little insight to his upcoming performance:
It just keeps getting better for Adam Lambert. Right after rocking the stage at Universal Resort in Orlando, the 34-year-old sat down with "Extra's" Mario Lopez, telling us he is back with brand-new music and getting ready to perform live on the show that made him famous this Thursday.

The "American Idol" alum revealed he knows what he is going to sing, but wants to keep it a "surprise."
As for that surprise, it's already been reported he'll be singing "Welcome To The Show," a new song for Lambert that will be released on Thursday as well, so yeah, that should be what we expect to hear from the Season 8 runner-up.
Check out a behind-the-scenes preview of "Welcome To The Show" and get ready for Lambert on Thursday night along with discovering who was sent home and who becomes part of the final Top 5 roster this season on American Idol!