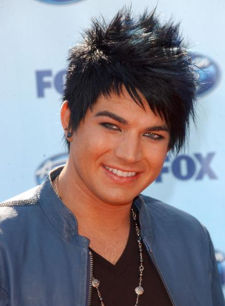 Adam Lambert's sophomore album will be a little delayed, but he's promised it will all be worth the wait. Now we've got a few more details on what to expect from the man himself. In an interview with The Advocate, Lambert revealed the new album would be an interesting mash-up of styles with a combination of "Nine Inch Nails meets George Michael." Wow. Now that sounds like it could be cool. He goes on with a few more details:
"I know that's a weird mash-up, but that's what it feels like," Lambert said. "No matter what the genre is, it's all very personal, even on upbeat, fun tracks. The last album was a little bit more of a fantasy escape … even my image for that last album felt very theatrical and kind of over-the-top and intentionally tacky. I get a kick out of making artistic statements that are kind of ridiculous."
Adam goes on to explain that this next album will reveal more of a personal side and will pull back the curtain for his fans. Still no word on when that curtain will be lifted, so we'll have to stick with the spring time arrival he promised.
Source: The Advocate via MTV News