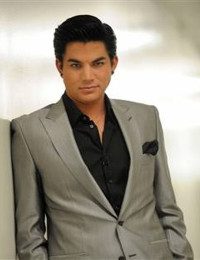 Adam Lambert's highly anticipated, post American Idol, second album just got a little more time for the anticipation to build. Lambert tweeted over the weekend that his sophomore release was being held up and the fault was all his own. Adam tweeted, "Here's the deal: there have been a couple of creative set backs on the first single. Mainly cuz I'm a perfectionist. Ha."
Adam went on to say that first single should hit in November with his album release coming in the early part of 2012, hopefully around February or March.
THR spoke with RCA Records COO Tom Corson who confirmed the delays and reiterated Adam's comments that the hold up was their focus to get everything right. Corson told THR:
It's been noted that Lambert is "taking the reins" on this album much more so than on his debut, and Corson concurred: "Adam is definitely more involved than ever and I think he's really enjoying that. Those first records when you come off of Idol, the timelines are really tight, so it's an artificial experience. Now he has room to breathe and time, he doesn't have to come off TV, onto a tour and then have an album out for Christmas."
Considering how well "For Your Entertainment
" was received the interest is high for Adam to really succeed this second time around and it sounds like he's getting the right support to make that happen.
Are you ready to hear that first single next month?
Source: The Hollywood Reporter