American Idol Top 4 finalist Alex Preston may be the underdog to win season 13, but he is also arguably the most unique and creative singer left in the competition. We are always intrigued to see what Alex will do next, and this week was no exception.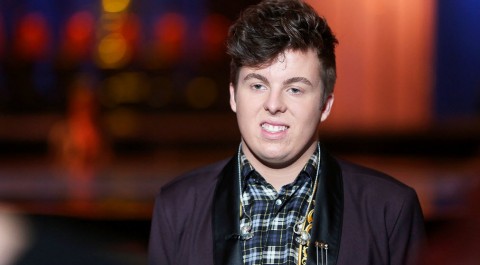 Of the two songs Alex selected to do for this week's 'Love: Break-ups and make-ups' theme, our favorite choice was "Too Close" by Alex Clare. While we liked his other song, "Yellow" by Coldplay, it was a bit more of a predictable tune for Alex. The Alex Clare song, while still firmly in Alex's 'wheelhouse,' was still a bit more of a reach for the quirky crooner.
This is a song that really has a lot of possibility for an emotive and passionate performance, which is something Alex has needed to connect more with the viewers. Plus, it's more of a strong pop ballad than Alex usually gives, with a more contemporary, mainstream feel. Whether or not it will be enough to save him from being the next person to go home remains to be seen.
Don't forget to get your votes in tonight for Alex if he is your favorite to win season 13!
Vote for Alex Preston:
Text 9 to 83676
Call 1-855-4-IDOL-09 (1-855-443-6509)
SuperVote online at AmericanIdol.com or via app