Jessica Meuse dared to step into the shadow of original American Idol winner Kelly Clarkson this week with her Top 4 performance of "Since U Been Gone." Watching her all season long, we never would have guessed we would ever see this Jessica Meuse Kelly Clarkson performance. If it works though, right?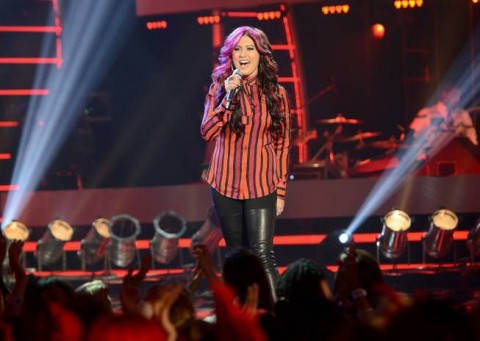 Jessica Meuse was coming off two relatively strong, but unusual, American Idol performances last week after being forced to sing tunes picked out for her by the viewers. We thought she might return back to her 'wheelhouse' of classic rock with a bit of a country flair this week. Instead, she went for two songs we really never would have guessed she would do.
Instead of going classic, Jess went totally contemporary for 'Love: Break-ups and make-ups' week on American Idol season 13. She picked out "You and I" by Lady Gaga for one of her song choices, and "Since U Been Gone" for the other. Both songs done by huge pop stars and both choices not at all like Jessica's usual style up until last week.
Don't forget to get your votes in tonight for Jessica if she is your favorite to win season 13!
Vote for Jessica Meuse:
Text 10 to 83676
Call 1-855-4-IDOL-10 (1-855-443-6510)
SuperVote online at AmericanIdol.com or via app