We are down to the Top 4 American Idol performances on season 13. The American Idol 2014 finalists know they have to put it all out on the stage tonight. This is the week that has produced shocking results when favorite contestants like Chris Daughtry and James Durbin were sent home. No one is truly safe at this point in the competition.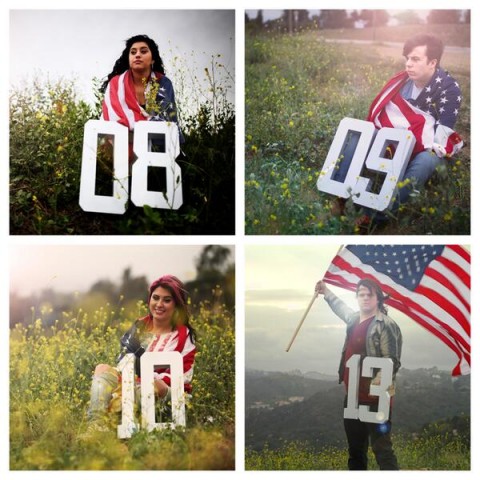 While it may seem pre-destined at this point that Jessica Meuse will likely be going home this week, based on the voting history so far, we would not be surprised by a big shake up this week. It's happened quite a few times before in our American Idol recaps for the Top 4 results show. This is the week favorites often go home, or at least end up unexpectedly in the bottom two.
So let's not just say Caleb Johnson and Jena Irene Ascuitto have the top two spots locked up because they've been riding at the top of the pack through most of the finals. Anything can and will happen on American Idol, and sometimes the votes change rapidly based on things that don't even have anything to do with the performances. Plus, we have all of Sam Woolf's votes out there waiting to find a new home, and that big voting block could change all kinds of things.
So strap in for the ride as we launch our live American Idol 2014 recap of the Top 4 peformances show tonight at 8PM ET!
>> Click to join our Live Chat during the show. (pop-up window) <<
We kick off the show with a flashback to the end of last week's results show where Sam Woolf was eliminated after Jena and Alex voted no to keeping everyone around for another week. Now it's on to the Top 4 and it's "all in or nothing" on American Idol tonight.
Host Ryan Seacrest introduces the Top 4 and the American Idol judges. He apparently forgot to shave or something, because he looks like a scruffy mountain man in a suit. We do not like. It's weird looking. Get that fuzz off that baby face Ryan!
Ryan talks about next week being 'Hometown' week and the Top 3 will get to return home in style for a big celebration. Then there is some more crap about stupid TV 'selfies' with the finalists later. We're so over the selfie craze and even more so on American Idol.
More unimportant banter, blah, blah, blah and let's get on to the performances!
American Idol 2014 Top 4 Performances (Round One):
Caleb Johnson: "You Give Love a Bad Name" by Bon Jovi
Judges: Keith says the thing he really loved was at the end how he took it to the 'Caleb' place and made the song his own. JLo says she always feels like she's at a Caleb concert and he is ready for prime time. Harry thinks it was fantastic and a great way to open the show.
Vote for Caleb Johnson:
Jessica Meuse: "Since U Been Gone" by Kelly Clarkson
Judges: JLo says that is one of her favorite tunes by Kelly and it is not easy to sing. She feels Jess had the right attitude on the song but the tune did not compliment her vocal style and ability. She did feel her in it though and that was a good thing. Harry says it was not her best performance and he is glad she had two more songs to do. Then he goes on a long ramble about how she needs to 'show even more' her emotive side and connecting with the song.
Vote for Jessica Meuse:
Alex Preston: "Too Close" by Alex Clare
Judges: Harry says he liked that performance very much. He spends so much time deconstructing the music and making it his own like a great artist. He took the tune to the bare bones and built it up to his own style. It shows he is a thinker and he is concerned about the music he plays. Keith Urban says he likes that too. Sometimes he feels like he misses a bit of weight to Alex's performances and more command of the phrasing. JLo likes Alex's originality as well, but he needs to think about creating a moment to help to win the competition.
Vote for Alex Preston:
Jena Irene: "Heartbreaker" by Pat Benatar
Judges: Keith says Jena has a great voice and great range, but he felt like she wasn't fully committed to the song and the moves weren't born of the music. JLo says she is going to go with the cheering audience. She thinks it was a controlled performance she loved it and it was a very commanding performance. Harry thinks vocally it was a ten out of a ten but he wishes the feeling would drive her more. There seems like there was a disconnect between the music and how she was moving. She talks about her heels restricting her and they tell her to just take them off. Or JLo says to just play up the heels in a dramatic way… and then the guys make her demonstrate.
Vote for Jena Irene:
American Idol 2014 Top 4 Performances (Round Two):
Caleb Johnson: "Travelin' Band" by Creedence Clearwater Revival
Judges: Harry says it was fantastic and he's so lucky to be surrounded by such a great band who makes him sound even better. Keith says Randy Jackson's expression said it all when he looked over and Randy was like "yehhhhhh!" It was great. Pretty much Caleb rocks, that's what the American Idol judges all seem to feel about this performance.
Jessica Meuse: "So What" by Pink
Judges: Harry says it was "so hot" it was like he was at a Japanese steakhouse and the flame was in his face. However, although she has an amazing talent, he really doesn't think either of her songs tonight were right for her. Keith agrees and says that when she finds the right song, she can tell her story like nothing else, but she needs the right song. JLo also agrees that the song was not right for her and hopes her third song will be better.
Jena Irene: "Bad Romance" by Lady Gaga
Judges: Keith says he thought it was really, really good and we really do wonder about this because everyone in our Live Chat room was screaming that it was terrible. JLo says Jena came out of the song before it was really over and she needs to think about staying committed all the way through. Harry says it was a nice job and liked it too.
Alex Preston: "I'm Yours" by Jason Mraz
Judges: JLo says the audience loves him and she loves him to. But she worries about him in this competition. She feels like he needs to do something to surprise them in some way and take his performance up to another level. Harry thinks Alex didn't do enough with the song to make his own besides playing a different chord in the song. He wanted to hear something different. Keith says there is a lot of stuff going on from lighting to learning songs. Taking it all into account, the last part of the song was a touchdown for him.
American Idol 2014 Top 4 Performances (Round Three):
Caleb Johnson: "Maybe I'm Amazed" by Paul McCartney
Judges: Another standing ovation for Caleb from Keith Urban and Jennifer Lopez, but not Harry Connick Jr. of course because he doesn't do that. Harry says he doesn't have a whole lot to say. It was nice to hear him sing softly and it was absolutely phenomenal. Keith actually claps for Harry's critique. He says his wife (Nicole Kidman) is probably at home freaking out because she loves that song. He nailed it, it was a killer performance. JLo says they kept pushing him to sing a slow song and the first one he did he sounded kind of out of his comfort zone, but this was maybe his best performance since the beginning.
Jessica Meuse: "You and I" by Lady Gaga
Judges: Keith says that was the perfect song for her! That's you, he says, I heard you in that. Really killer. JLo says it was perfect for her and really highlighted all the strength in her voice. Harry says Jess came out swinging on a song perfect for her and she killed it.
Jena Irene: "Can't Help Falling in Love" by Elvis Presley
Judges: Jena just needs to live behind the piano, she has Jennifer Lopez giggling with happiness. JLo actually goes up on stage because she "has to kiss" Jena! JLo says she has never gotten up before to kiss someone after their performance. Jena has actually 'reinvented' the King Elvis Presley. JLo is freaking out and overcome, it's really wacky. Harry says it took immense courage to perform that song that way and it's rare for people to get to see something like that. It was incredible. Keith says Jena is like a species unto herself, like a musical platypus. That was spell-binding.
Alex Preston: "Yellow" by Coldplay
Judges: Harry says Alex really needed that song and he's so happy he is a judge because he doesn't have to vote. There were some great performances tonight and that was one of them. Keith says Alex has a poetic vulnerability and that song was perfectly suited to him. JLo says it was a perfect song and he sang it beautifully. She thinks he is integral to this competition. Great job.