Well that didn't take long at all. Scotty McCreery, the winner of American Idol 2011, and runner-up Lauren Alaina have both signed with Mercury Nashville, a label under Universal Music Group, according to an ad placed in yesterday's Billboard Country Update.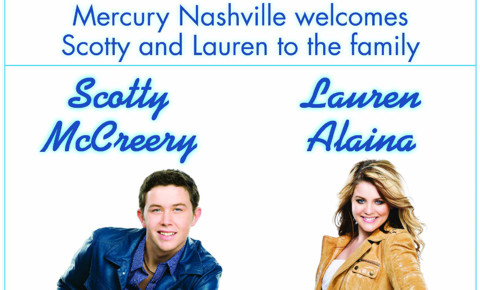 Mercury Nashville boasts the quick successes of both artists:
"I Love You This Big" already over 173,000 digital downloads. Scotty has highest debut for a brand new artist's first single since the chart converted to BDS data in 1990. 32* DEBUT, 3.1 million audience impressions in only 4 days of airplay.

"Like My Mother Does" already over 124,000 digital downloads."
Nearly 300,000 downloads between the two of them in the past week is pretty impressive, but it's hard to imagine McCreery getting the largest single debut for a new artist in over twenty years. I guess when you're standing on the shoulders of American Idol anything is possible.
You can still download Scotty's and Lauren's albums and singles. Did you already contribute to their sales records?