Update: Very limited Idol Gives Back tickets are still available. Hurry!
Tonight on American Idol we said good bye to both Andrew Garcia and Katie Stevens.  An unfortunate turn of events for the young Stevens after the judges used their save on Big Mike last week.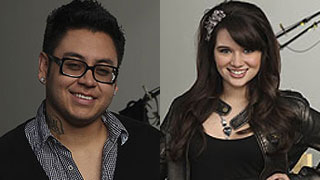 I understand with Andrew Garcia because he has given one bad performance after another but last night's version of "Hound Dog" was about the worst I had heard from him this season.  So the front runner going into the top 24 with his superb take on Paula Abdul's "Straight Up" is going home.  There were too many expectations for Garcia after singing that in the auditions and he never could deliver and was always compared to that one vocal.
I felt sorry for Katie.  After a shaky start in the Top 24 she began to come alive and the last couple of weeks really delivered some top rate songs.  I'm surprised to see Aaron Kelly still there as I thought he deserved to go home tonight in place of Katie.  She sang "Let it Be" and held it together but bless her heart, burst into tears right when it was over.  Give Katie a couple of years and a little voice training and I think we will see her again.
Did you think America got it right with the eliminations?