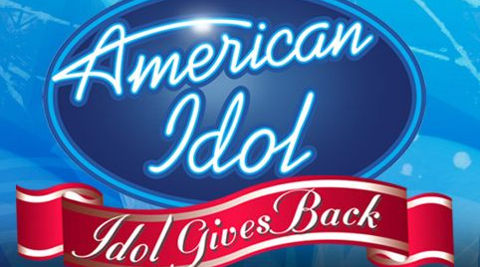 Update: Very limited Idol Gives Back tickets are still available! Here's your chance to get a preview of the summer Idol tour!
Update 2: I found more Idol Gives Back tickets in case the first update link runs out.
Update 3: Check out Reality Rewind's response to the rumor that Crystal Bowersox almost quit American Idol.
Next week on Season 9 of American Idol we have our two hour special Idol Gives Back on Wednesday April 21 with an all star line up for our entertainment.  Guests include: The Black Eyed Peas, Annie Lenox, Jeff Beck and Joss Stone, Mary J. Blige and Sir Elton John will sing on behalf of the Elton John Aids Foundation.  If you don't want to wait until next week to donate check out the online auction at http://idolgivesback.vonality.com/.
Alicia Keys will mentor the hopefuls on Inspirational Songs throughout the week and will perform on Wednesday night as well.  A list of songs the contestants may choose from is available on itunes.  Here are some thoughts on what I think would be good song choices for the remaining 7 to choose from.
Lee Dewyze should sing "Higher" by Creed or "Dare You To Move" by Switchfoot. 
Casey James "Calling All Angels" by Train or "Live Like You Were Dying" by Tim McGraw
Siobhan Magnus "I'll Stand By You" by The Pretenders
Crystal Bowersox should step out of her comfort zone and sing "We Are The Champions" by Queen or "Livin On A Prayer" by Bon Jovi just to give us something different.
Tim Urban would make my night by singing "I Will Survive" by Gloria Gaynor.  That would be priceless and it's possible he could do a really good job.  Well maybe not.
Big Mike should stick to what he does best and sing "I Believe I Can Fly" by R. Kelly or give us a little diversity with "Rainbow" by Sugar Ray.
Aaron Kelly is the hardest for me to choose for some reason.  What about "Drive" by Incubus or "This Is My Now" by Jordin Sparks?
Complete list of songs the contestants can choose from:
Your Love Keeps Lifting Me (Higher and Higher) – Jackie Wilson
A Moment Like This – Kelly Clarkson
Amazing Grace – Susan Boyle
Angels – Robbie Williams
Anyway – Martina McBride
Aquarius/Let the Sunshine In – The Fifth Dimension
Better Days – The Goo Goo Dolls
Bridge Over Troubled Waters – Simon & Garfunkle
Calling All Angels – Train
Changes – David Bowie
Dare You To Move – Switchfoot
Don't Dream It's Over – Crowded House
Don't Stop – Fleetwood Mac
Dream Weaver – Gary Wright
Drive – Incubus
Everyday People – Sly & The Family Stone
Flying Without Wings – Ruben Studdard
From a Distance – Bette Midler
Go the Distance – Michael Bolton
Greatest Love of All – Whitney Houston
Hands – Jewel
Heaven Help Us All – Stevie Wonder
Hero – Chad Kroeger featuring Josey Scott
Higher – Creed
Holding Out for a Hero – Bonnie Tyler
I Am Changing – Jennifer Hudson
I Believe I Can Fly – R. Kelly
I Can See Clearly Now – Jimmy Cliff
I Hope You Dance – Lee Ann Womack
I Turn To You – Christina Aguilera
I Will Survive – Gloria Gaynor
I'll Be There – Jackson 5
If You Believe – The Wiz Original Broadway Cast
I'll Stand By You – The Pretenders
I'm Coming Out – Diana Ross
It's My Life – Bon Jovi
I've Had The Time Of My Life – Bill Medley & Jennifer Warnes
Lifted – Lighthouse Family
Live Like We're Dying – Kris Allen
Live Like You Were Dying – Tim McGraw
Livin' on a Prayer – Bon Jovi
Living in America – James Brown
Lovely Day – Bill Withers
My Heart Will Go On – Celine Dion
My Wish – Rascal Flatts
Only Hope
Over the Rainbow – Judy Garland
People Get Ready – The Impressions
Rainbow – Sugar Ray
Reach Out and Touch (Somebody's Hand) – Diana Ross
Reflection – Christina Aguilera
Return to Innocence – Enigma
The River of Dreams – Billy Joel
Show Me What I'm Looking For – Carolina Liar
So Small – Carrie Underwood
Stronger – Mary J. Blige
That's The Way God Planned It – Billy Preston
That's What Friends Are For – Dionne Warwick, Elton John, Gladys Knight
The Boxer – Simon & Garfunkle
The Impossible Dream – Frank Sinatra
The Prayer – Andrea Bocelli & Celine Dion
The Time of My Life – David Cook
The Is My Now – Jordin Sparks
Up Where We Belong – Joe Cocker and Jennifer Warnes
Walking on Sunshine – Katrina & The Waves
We Are the Champions – Queen
What a Wonderful World – Louis Armstong
What the World Needs Now is Love – Jackie DeShannon
When you Believe – Mariah Carey
Wind Beneath My Wings – Bette Midler
World – Five for Fighting
You Light Up My Life – Debby Boone
You Raise Me Up – Josh Groban
You'll Never Walk Alone – Barbara Streisand
You're My Best Friend – Queen
You're the Inspiration – Chicago
You've Got a Friend – Carole King
What do you think the contestants should sing?