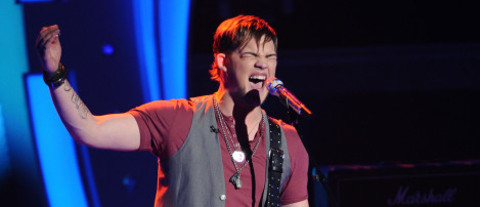 James Durbin fans can rejoice. The American Idol 2011 contestant has finally signed a record deal this week, according to The Hollywood Reporter:
American Idol season 10 finalist James Durbin has signed with Wind-Up Records, it was announced on Monday. The label founded in 1997 by husband and wife team Alan and Diana Meltzer is home to multi-platinum rock acts Evanescence and Creed.

Says Gregg Wattenberg, Wind-up's Chief Creative Officer who co-wrote Daughtry's Top 10 hit "It's Not Over:" "When the possibility of signing James Durbin to Wind-up Records came up, we knew it was a no-brainer. James is a rock star. We're all excited to have him as part of the family and can't wait to let his fans hear his debut album."
Durbin will start recording next week before returning to the Idol tour. After the tour is finished he'll be back in the studio to complete this album.
Who is ready to get their hands on a James Durbin album?