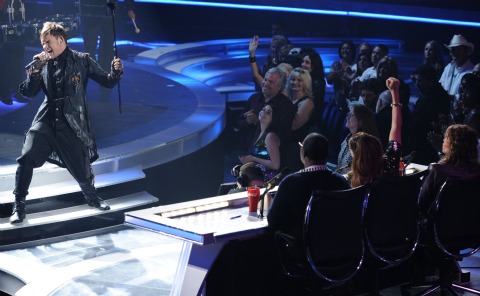 We learned nearly three weeks ago that American Idol singer James Durbin had signed a deal and was hard at work on his debut album. Now we have an album title and scheduled release date to go with it.
According to Amazon.com's pre-order page, Durbin's post-Idol debut will be named "Memories Of A Beautiful Disaster" and is set to be released on November 21, 2011. No details have been announced for the track list or run time.
This looks to be a pretty quick turn around considering Durbin had just started on the album in early September and then had to take a break to return to the Idol tour. In less than two months we'll find out what James was able to put together in such a short time. Are you ready to pre-order James Durbin's "Beautiful Disaster"?
Update: Thanks to reader Micaela, here is Durbin's song "Stand Up" from the "Official Game Day Vol: 2" album which may or may not be on his first album. James had tweeted "not for the record" when detailing "Stand Up" so I'm guessing that means it's, you guessed it, not for this record. But either way, enjoy it below.