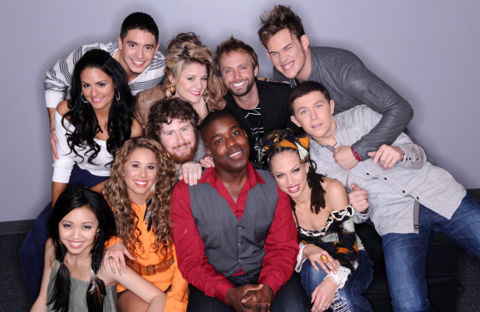 And then there were eleven. American Idol 2011 eliminated Karen Rodriguez on Thursday's results show and left us with this season's Top 11 performers. Karen had managed to climb up to 2% on our poll, ahead of Naima and Haley who both had just 1% of the votes. Unless we see breakthrough performances from those two we can expect them to get extra stage time with Seacrest on the next results show.
This time around the Idol hopefuls will be returning to very, very familiar ground: Motown. Oh yes, that whole "no themes this year" promise from Nigel has vanished down the drain which means we should be lining up for some awkwardly entertaining performances come Wednesday night's performances. Maybe Scotty can find a way to work "baby, lock them doors" into an existing Motown classic.
I'm not certain the theme will help, but ratings took a dip last week with a season low rating of 5.6 for adults (ages 18-49). This conveyed in to a 16% drop from a week earlier. We might be looking at similar trends until things get a little closer to the end and the pressure builds for who will be making it into the final stretch.
Side notes in Reality TV: Big Brother 13 announced its first casting events this weekend. SYTYCD Season 8 has set its premiere date. X Factor revealed its first confirmed judge, besides Simon of course, but might also pick up Paula!
Source: USA Today & TV By the Numbers