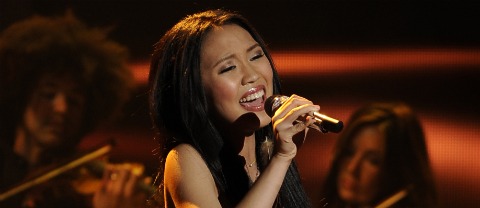 First of all, I'm going to pat myself on the back for getting the "American Idol" Bottom 3 and eliminated contestant exactly right two weeks in a row. Let's see how long I can keep accurately prognosticating. Aside from that exciting news, Thursday's results show was as boring as last week.
(Note: This is a chronological recap. If you want to find out immediately who was eliminated, see Matt's earlier Top 12 elimination results post.)
The show opened with the Idols singing completely live a mash-up of "Born to Be Wild" and Lady Gaga's "Born This Way." And boy do I wish it was pre-recorded. It was awful. Not only the singing, but everything else. Who is the sound guy for this show? Do they not even know how to turn mics on? Almost every time someone new started to sing, the mic wasn't on. Terrible. That performance gets a big fat F.
Then we get the Ford fluff commercial. And that's terrible. That gets a D. Are they ever going to figure out how to make the results shows entertaining? Why can't they just make it 30 minutes and do all elimination stuff? It's so frustrating.
More filler: The audience, in the style of Oprah, gets a free 10-year anniversary CD. Yay.
Even more filler: Contestant interviews. Now, I don't mind these. I kind of like getting to know the contestants, but then they ask them dumb questions about accents and foreign languages. And why why why did they bleep out Pia saying "shih tzu"? That's not a curse word! It's a dog breed! Ridiculous.
More lame: The St. Patrick's Day lighting gag.
Finally, it's time to build the Bottom 3. Ryan brings Jacob Lusk , Lauren Alaina and Casey Abrams to center stage. Gee, I wonder if this is just like last week and they're all safe? Of course. They're all safe.
Then he calls up Haley Reinhart and Paul McDonald. Paul is sent to safety and Haley is in the Bottom 3. For the second week in a row.
Then it's time for more filler in the form of Lee DeWyze. Oh how I missed those Lee spit strings. Then commercial.
When the show returns Ryan calls Scotty McCreery, Pia Toscano and James Durbin to the center of the stage. Ryan, you're not fooling me. I know they're all safe. Stop with the lame Bottom 3 assembly this season. They're all safe. Duh.
Next up we get Stefano Langone and Naima Adedapo. Stefano is safe and Naima is back in the bottom. Ryan immediately brings Thia Megia and Karen Rodriguez up. Thia is safe, Karen is not.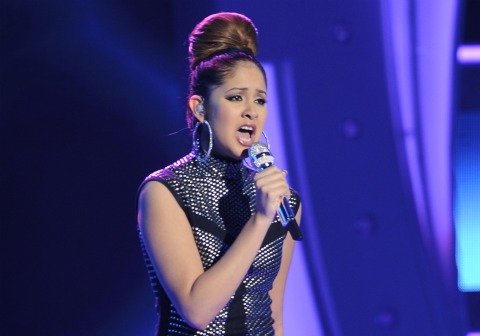 So the Bottom 3 is named: Haley Reinhart, Naima Adedapo and Karen Rodriquez.
Haley: Safe
Naima: Safe
Karen: Not safe. She sings for a chance to get the judges' save. She pulls out her version of "Hero" by Mariah Carey. She gives about a B+ performance. I wouldn't save her. And while Jennifer Lopez clearly wanted her to stay (and probably Steven too) Randy most likely said no, so Karen is sent packing. And once again, I was correct. I predicted the Bottom 3 and that Karen would go home. I'm not one to brag, of course. Haha.
What are your thoughts on the Bottom 3 and the eliminated contestant?