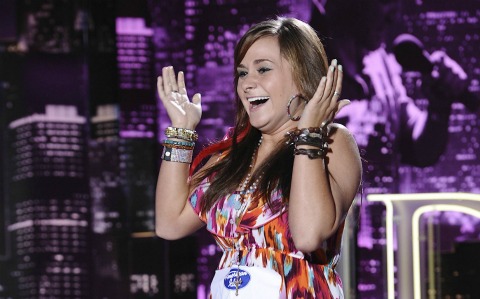 After Wednesday night's snooze-fest episode, American Idol really needed to deliver in Houston and it did.
Thursday night's audition episode was much better. It had a good mix of the good and the bad that we love to see and hear. And the good were actually good.  There are definitely some Top 24 contenders from the Houston batch (and I'm not just saying that because I've read our American Idol Spoilers).
It was also a night of Girl vs. Boys with Jennifer, Randy and Steven. The judges couldn't seem to agree on much. For awhile it seemed every contestant Jennifer liked "the boys" didn't. And vice versa. I agreed with Jennifer every time. I liked the ones she did and didn't like the ones Randy and Steven liked.
What really came out of that whole mess was more proof that Randy Jackson is a complete a**hole who makes too much money for doing nothing. He really said "I won't lose any sleep over that one," after crushing a legitimate singer's dreams. It wasn't one of the ridiculously bad singers the producers let through for laughs either. Why is it that he's the only judge that hasn't been replaced. Total a**.

The Standouts
Skylar Laine. This 17-year-old country girl is the real deal. She's not just some girl who sings country music. She IS country. She has a deer head hanging on her bedroom wall for crying out loud. I think she was a little too twangy for my taste, but that means there are going to be some people who really love her.
Baylie Brown. Returning for the first time since season 6, Baylie delivered a great version of Bon Jovi's "Bed of Roses." She was 16 at the time of her first audition  when she was cut during Hollywood Week. Now she is 21 and gets another shot. She has definitely matured and definitely has the look to match the voice.
Kristine Osoria. The single mother of three has one last shot at American Idol since she's 28. There was a realness about her singing that I really responded to. You can just tell she loves singing. And she must since she said she spent her divorce money to buy her plane ticket to the Idol audition.
Cortez Shaw. Randy almost got to use his a-hole powers again on this guy, but luckily Jlo stopped him and let the poor guy actually audition. He sang probably the 100th version of  "Someone Like You" by Adele, but at least it was a good version.
Ramiro Garcia. I didn't think this guy really pushed himself during his audition. I mean, he just kind of rolled out "Amazing Grace" like someone would a lecture at an insurance seminar. I don't mean it was bad, I just mean he didn't try hard. It's almost like he relied on his story more than his sound. I'm sure I would have enjoyed his audition more if he gave a little more heart and soul.
In the end, 54 American Idol 2012 golden tickets were handed out in Houston. Who were your favorites of the night? And whose team are you on — Jennifer's or the boys?