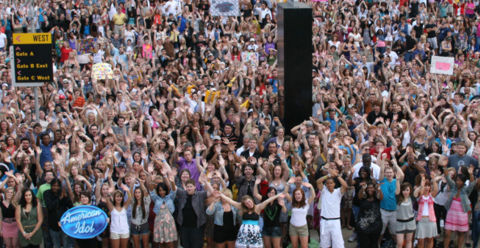 The Idol Pad, MJs and basically everyone else has reported the same American Idol 2012 Top 24 spoilers, so while nothing is confirmed, it should be pretty safe to say that the list below is solid.
Along with the list is a breakdown of the Top 24's audition cities.
It comes as no surprise that NO Top 24 contestant came out of last night's dud Aspen episode. It looks like Pittsburgh produced the most Top 24 contestants with nine of the 24. Followed by Charleston/Savannah with seven, Houston with five, San Diego two, and Portland only one.
If you want to see the list, keep reading. If you don't want to be spoiled, run away! Now!
The American Idol Top 24 — Audition City
The (alleged) Top 12 Girls
Hollie Cavanagh — Houston
Baylie Brown — Houston
Jen Hirsh — Houston
Chelsea Sorell — Charleston/Savannah
Hallie Day — Pittsburgh
Elise Testone — Charleston/Savannah
Erika Van Pelt — Pittsburgh
Jessica Sanchez — San Diego
Haley Johnson — Portland
Shannon Magrane — Charleston/Savannah
Brielle Von Hugel — Charleston/Savannah
Skylar Laine — Houston
The (alleged) Top 12 Boys
Adam Brock — Pittsburgh
Reed Grimm — Pittsburgh
Deandre Brackensick — San Diego
Creighton Fraker — Pittsburgh
Aaron Sanders — Pittsburgh
Joshua Ledet — Houston
Eben Franckewitz — Pittsburgh
Heejun Han — Pittsburgh
Phillip Phillips — Charleston/Savannah
Jeremy Rosado — Charleston/Savannah
Chase Likens — Pittsburgh
Colton Dixon — Charleston/Savannah