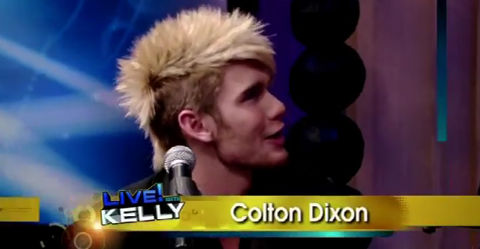 Colton Dixon fans still have a few more chances to enjoy their favorite American Idol 2012 singer as he's continued to make the rounds after his elimination last week. Among his many appearances and performances this week we've got a couple to share below. I've also included a 12 minute interview Colton had on The Tom Sullivan show.
First up is his appearance this Monday on "Live! With Kelly" where he again performed his swan song, "Everything." Following the performance he told Kelly Ripa that his elimination was bittersweet now that he could move on to following his dream of writing and recording sooner. Colton also noted that he missed "the American Idol family like crazy" but the freedom to get out there and start working on his solo career is exciting for him.
Colton Dixon also made a post American Idol 2012 appearance on Access Hollywood where he stuck to his guns and sang, you guessed it, "Everything." I suppose after Colton's heartache over picking a Lady Gaga song last week he doesn't want to stray from his message again.
If you could have requested Colton Dixon to perform one other song from his time on American Idol 2012, what would it be?
Here's the additional interview from Monday's The Tom Sullivan Show where there's lots of discussion on his "shocking" elimination. I don't agree that he was expected to win American Idol Season 11, but I was surprised to see him go a few weeks earlier than I thought we'd see.