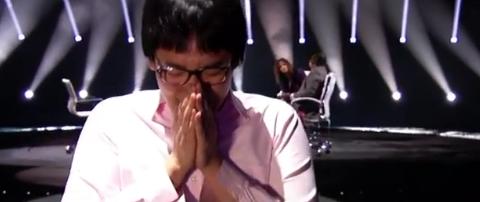 We didn't get to hear much singing Wednesday as the American Idol 2012 Top 24 was being assembled, but we did get to see a lot of emotion and officially learn 14 of the Top 24.
As each contestant took the long walk, we got a recap of their American Idol auditions so far, and in most cases, only a small (or no) snippet of their final solo Vegas performance the night before the final judgement.
First up was Jen Hirsh. She's had a strong showing all along, and from what little we heard, that carried through to her final performance. She made it to the Top 24.
Cregihton Fraker also had a powerful strong showing in his final chance to sing for the judges. He made it through as well.
Lauren Gray's voice is golden. I cannot believe she didn't make it into the Top 24. If anyone was robbed this season, it was Lauren. I think she had one of the most powerful and unique voices out of all the girls.
Joshua Ledet will be the season's screamer as he made it into the Top 24. So far, I'm not a fan.
Next we get a quick shot of a couple contestants cut then they slow down for Haley Johnsen. We haven't seen much of her, but what we did showed us she's definitely a powerful singer. We'll get to know her a little better now that she made it through this cut.
Neco Starr's final performance wasn't exactly impressive and the judges decide to cut him. Elise Testone and Reed Grimm get the usual judge's fake-outs but are both accepted into the Top 24.
Erika Van Pelt, Chelsea Sorrell and Baylie Brown might eventually cancel each other out, but all made it to the live voting next week.
Richie Law, the opinionated cowboy, has been hit and miss and it would seem his final performance of "Ring of Fire" was a miss. He's cut, much to a lot of people's joy, I'm sure.
Heejun Han, who was not a fan of Richie, did not find the same fate. The funny guy makes it to the live vote next week.
Jessica Sanchez continues to amaze me with her huge voice. She's really only 16? Really? Her final performance was soft and emotional and the producers apparently loved it because we got to hear almost the entire performance. That didn't happen any other time during the episode. Needless to say, she's in.
Phil Phillips and Colton Dixon will have to fight for the female vote as they both earned spots in the Top 24.
Brielle Von Hugel and her mom are also in the Top 24. Thank goodness we don't see much of the parents beyond the audition round. I couldn't take a whole season of that crass stage mom. Blah.
The last contestant of the night was Adam Brock. In soap opera cliffhanger fashion, his fate will not be known until Thursday night. Join us on Facebook and Twitter to get all the Idol results sent right to you!