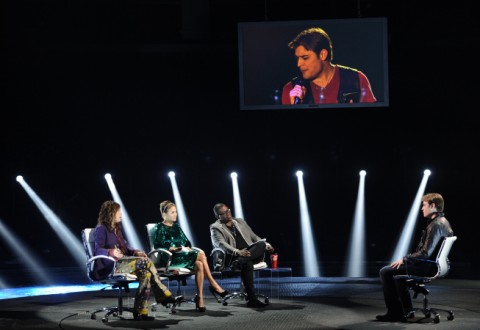 American Idol picked up where it left off on Wednesday night with Adam Brock's fate hanging. After a drawn-out discussion and emotional torture, the judges told Adam he made it to the American Idol 2012 Top 24.
Next up was Jeremy Rosado. The quick glimpse we got of his final performance was smooth and pretty much flawless. All his performances have been strong and his last one sealed the deal. He's in.
Shannon Magrane might have forgotten her lyrics during Hollywood Week, but she made up for it enough in Las Vegas to make the Top 24.
Scott Dangerfield probably shouldn't have dropped out of the contest last year because it seems like that might have been his year instead of this one. The 2011 early-fan favorite did not make the cut this season.
Skylar Laine was certain to not make it after fellow country singer Chelsea Sorrell made it through, but her final performance of Reba' "Fancy" might have changed her fate. I think it was actually her raw, real classic country sound that landed her a spot in the Top 24.
In what's always a completely unfair disadvantage, American Idol rushed through three other Top 24 contestant decisions, skipping any footage of their performances. Those three were Hallie Day, Chase Likens and Aaron Marcellus. Getting the really short end of the stick was Chase. He's hardly been shown at all so far this season yet will be singing for America's votes next week. I hope Idol's neglectful ways don't hinder his chances of going beyond the Top 24.
Jermaine Jones' deep deep voice has gotten mixed reviews among fans and even though the judges seem to like him, he did not make the cut.
Hollie Cavanagh, Shelby Tweeten and Ariel Srague made the long walk together and unlike last season, Hollie made the cut. Shelby and Ariel say goodbye.
And the final two guys of the night — Eben Franckewitz and David Leathers Jr — also make the long walk together. Both of the young guys have similar sounds and have become great friends during the process, but only one of them are in and that spot goes to Eben.
So we have our Top 24. BUT. Yeah, there's always a "but." But next Tuesday, the Top 24 will become the Top 25 as the judges have decided to reinstate of of four guys — David Leathers Jr, Jermaine Jones, Johnny Keyser or Richie Law.
I can't imagine it will be Johnny since he was cut before the Top 42 and didn't even have a final performance. So the decision could go a few other ways for different reasons. It could be Richie, since he's kind of quirky and would certainly bring some dramatic flare. Or it could be David because of all his early fan support. And then it could be Jermaine because of lack of diversity in voices. There are no other deep voices this season.
Here is your complete Top 24 (in alphabetical order):
• Deandre Brackensick
• Adam Brock
• Baylie Brown
• Hollie Cavanagh
• Hallie Day
• Colton Dixon
• Creighton Fraker
• Eben Franckewitz
• Reed Grimm
• Heejun Han
• Jen Hirsh
• Haley Johnson
• Skylar Laine
• Joshua Ledet
• Chase Likens
• Shannon Magrane
• Aaron Marcellus
• Phil Phillips
• Jeremy Rosado
• Jessica Sanchez
• Chelsea Sorrell
• Elise Testone
• Erika Van Pelt
• Brielle Von Hugel
Of course on Tuesday it will become a Top 25. Who would you like to see return to the competition?