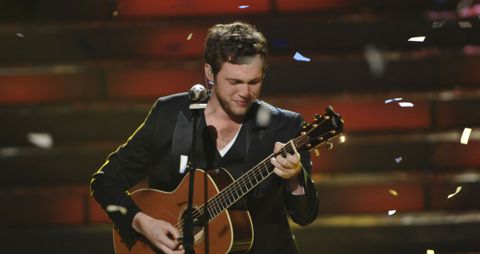 Not even the spectacle of guest star performances, sparks falling from the sky, and the dimmed lights' results we've been waiting for all season could save the American Idol 2012 ratings this week.
Falling to its lowest level ever the American Idol finale drew only a 6.4 rating in the key 18-49 demographic. That's roughly a thirty percent drop from last year's Idol finale which earned a 9.2 rating in the same demo. Overall the audience was 21.5 million viewers compared to last season's 29 million. Ouch.
To put these numbers in perspective the series peaked on its finale night ratings back in 2006 with 36.3 million viewers and a 14.2 key demo rating. Since then the show saw a steady decline until last year when things had their first uptick in five seasons before returning to the downward trend.
Tuesday night's final performance show drew only 14.8 million viewers after the previous week's 16.4 million viewers. Go figure that one. I would have expected a shorter show between the final two singers would be of more interest than a two-hour filler-fest.
Both American Idol 2012 episodes this week still managed to win their timeslots and put Fox in first, but if things continue this slide then it might get ugly.
Source: TV By The Numbers & Deadline