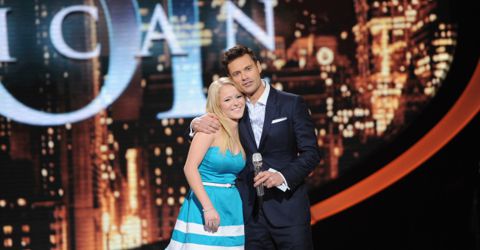 Last night on American Idol 2012 we said goodbye to Hollie Cavanagh and hello to the Season 11 Top 3. Hollie spoke with FOX regarding her elimination and there wasn't a hint of sadness or disappointment. Instead Hollie was clearly thrilled to have made it this far and looking forward to what comes next.
"It's tough, but I can't really complain at Top 4. That's something I'm really proud of," Hollie explained when asked for her reaction to being sent home from American Idol.
Cavanagh went on to compare her experiences between this season and last year when she was sent home during the Top 40 stage of the competition. "Last year when I went home I was really kinda down and not feeling so great. But at this point I only made Top 40 last year and then to come back and I'm at Top 4. I just can't really be sad because this is an amazing thing for my future."
FOX asked what was going through her mind when she came to the realization on stage that she had been eliminated. Initially Hollie said, "nothing," but then backed up and made it clear that she wanted to go out on a positive note. "I honestly didn't know what to think," Hollie started. "Okay, this is your last song on this stage as a contestant so just go out there and just sing, just sing for the love of it, and don't worry about what's going on. Enjoy that moment."
Hollie might not be part of the last two weeks of American Idol 2012, but she's excited for everyone's return for the Season 11 finale and then especially for the summer tour. Holliepops will have the opportunity to snag some tickets to see her as part of that tour starting later today.