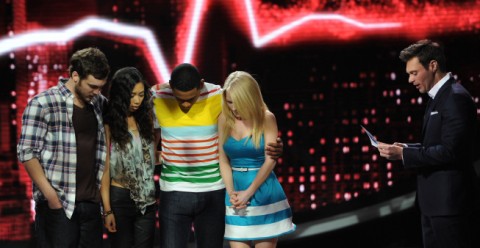 Tonight the American Idol 2012 Top 4 turned into the Top 3 at the end of the live results show.
That means the three people who will be heading to their hometown celebrations next week are probably pretty excited right now. That fourth person, not so much. Of course they still get to go home, but it won't be for the same reasons.
At the start of the shows we see a group of people standing on the stage surrounding a red carpet. Hmm. What's this for, I thought. The Top 4 comes out and performs "California Dreamin'" up and down the carpet then we get a commercial. And that's the last of the red carpet. And no mention of what it was even for. Weird.
Following the Ford music video, we get to the results. Or so we think. Ryan pulls Phillip Phillip to the center of the stage and following the recap from the night before and Jimmy Iovine's thoughts, Ryan tells Phillip to return to the couches. Bad wording, Ryan. Phillip thought it meant he was safe and even hugged Ryan. Ryan then points out that those are not the results. Phillip is just going back to the couch to wait because they're building the Top 3 instead of the Bottom 2.
Hollie Cavanagh is called up next and the same thing happens. She's sent to the couch.
After the break we get a performance from Season 7 winner David Cook and then another commercial break. Then more results and more Seacrest fake outs. Joshua Ledet's night is recapped and he is sent back to the couch. Repeat the same thing with Jessica Sanchez.
At this point I'm about to fall asleep, but decide to stay up to watch Jennifer Lopez lip sync her song that was clearly previously recorded.
And finally, we get to the real results. And even though they're building the Top 3 this week, nothing is said that it's being done in order. So the only thing we can be sure of this week is who was on the very bottom of the votes. Ryan has the four of them on the stage and sends Jessica to safety. And then Joshua. So that means it's Hollie or Phillip who got the least amount of votes. And in old-school Seacrest fashion, he goes to a commercial break.
Following the break, Ryan sends Phillip to safety and Hollie gets to listen to Scotty McCreery's terrible farewell song. So no surprises this week. And while I'm about 100 percent sure most of the people watching (especially Jessica fans) think the Top 3 was assembled in order of votes. But American Idol NEVER reveals that kind of stuff. No one knows who got the most votes this week.
What do you think of the American Idol 2012 Top 3?