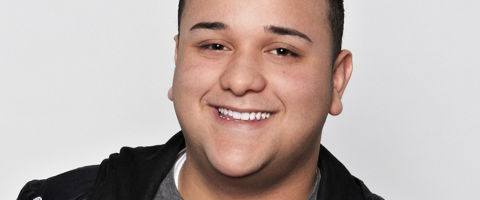 He might have been eliminated last week on American Idol 2012, but Jeremy Rosado has big post-elimination plans. Did I say "big?" I meant "huge."
Jeremy was interviewed by MTV and divulged to their cameras that his big passions are acting and singing. No kidding. So he'd like to have a television show, do a few movies, win an Oscar, and then a big, big stack of Grammys. Why stop there, Jeremy? JLo is single again now so you could add marriage to your list.
All kidding aside, Jeremy had some pretty nice things to say about his mentor, Mary J. Blige, and his American Idol champion/judge, Jennifer Lopez:
Rosado is most grateful to "Idol" judge Jennifer Lopez, who not only seemed to be his biggest supporter on the show, but coined his now ubiquitous nickname: Jer-Bear. And then, after he had been eliminated, well, she helped change his mood considerably.

"Jer-Bear, yeah, I think I'm going to try and get it copyrighted or something," he laughed. "Jennifer gave me a kiss on my check twice, and I got eliminated that day, but she made me feel a little bit better … a lot bit better. And to think someone like her or [last week's mentor] Mary J. Blige fall in love with my voice, and with me as a person? That doesn't happen every day, so I'm forever grateful."
Best of luck to Jeremy Rosado as he seeks out his career after a brief stint on American Idol 2012. Check out Jeremy's video interview after the break.
Source: MTV.com