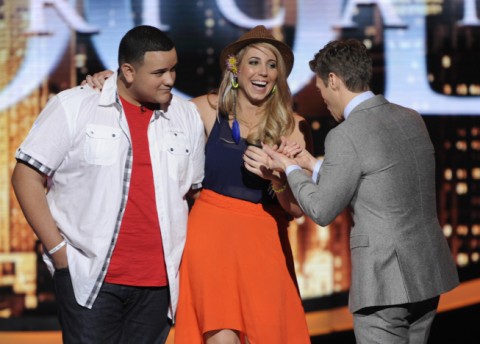 We said goodbye to our first member of the American Idol 2012 Top 13 and the results couldn't have been more predictable.
At the top of the show we were "treated" to a group number. And while it actually wasn't that bad for a group number, it's still a part of one of American Idol's biggest problems – the results show. Every year I say the same things: It's too long. There's too much filler. And people singing in groups of three or more sound awful about 90 percent of the time.
Oh, I almost forgot about the Ford Music Video. Sometimes they're cool, but most of the time they're awful. And Thursday night's might have been one of the worst ever. The graphics were TERRIBLE. What is this 1996? Awful.
Finally, some results. Ryan pulls Jessica Sanchez, Elise Testone and Hollie Cavanagh to the center of the stage. Gee, I wonder how this is going to go down. Jessica and Hollie are safe and Elise takes the first seat in the bottom 3 girls.
And before I go any further, can we talk about how ridiculous it is to have a bottom 3 girls AND a bottom 3 guys? Come on. half of the people in their "bottom" groups aren't even in the bottom. They're somewhere in the middle. It's so insulting.
Next up are Heejun Han, Jermaine Jones and Colton Dixon. (Broken record alert) Gee, I wonder how this is going to go down. Heejun and Colton are safe and Jermaine lands in a bottom 3 guys chair.
Up next we get to see that last year's runner-up gave in to the Hollywood/Nashville diet and lost all of her character somewhere in a  pilates class.
And it's time for more results. The remaining girls, Erika Van Pelt, Shannon Magrane and Skylar Laine take the stage. At this point I think, oh, there's going to be a shocker. All the other results have been so obvious, so I guess this means America is crazy and didn't vote for Skylar. But luckily, that wasn't so. Skylar is safe and the other two join Elise in the bottom 3.
The remaining guys step up to find out their fates. Jeremy Rosado takes the second seat in the bottom 3, to no one's surprise. And finally, there's kind of a surprise. Not a huge surprise, but a surprise none the less. And that's Joshua Ledet is in the "bottom" and not Deandre Brackensick.
Ryan immediately sends Joshua and Erika to safety and stops insulting them by calling their rankings "the bottom."
After Mary J. Blige takes the stage, it's the final results.
Jermaine and Shannon are sent to safety so that leaves Jeremy and Elise. And just as I predicted, the judges save the girl and send Jeremy home. I wonder who had the actual bottom votes. I would venture to bet that the true bottom 2 were Jeremy and Jermaine. And Elie would've been in that third to last spot. But that's just a guess.
Did America and the judges make the right choices?