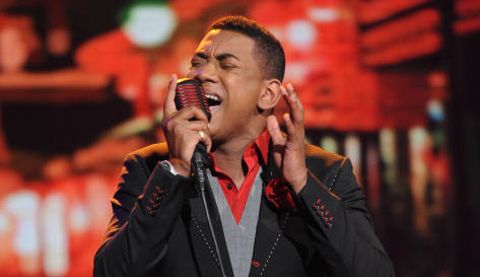 Last night on American Idol 2012 Joshua Ledet delivered three big performances: "I'd Rather Go Blind," "Imagine," and "No More Drama." The judges loved his work and, as we've seen again and again this season, one of these even earned him another standing ovation.
Despite Randy Jackson introducing this song as "I'd Rather Be Blind" the song is called "I'd Rather Go Blind." Check out Joshua Ledet's Top 3 performance of Etta James' classic.
There might not have been a standing ovation for his "Imagine" performance but the judges still heaped the praise on Joshua. Watch Ledet's personally selected performance from the American Idol 2012 Top 3.
Jimmy Iovine sent the Mary J. Blige hit "No More Drama" Joshua's way and the judges were thoroughly impressed with what he sent back. The judges loved his delivery including the jacket toss spontaneity and gospel styling.
Will Joshua Ledet's American Idol performances be enough to push him over the top and head on to the finale next week? We'll know later tonight when the American Idol results are revealed. Don't forget to vote in our poll and share your thoughts on who was the best this week.