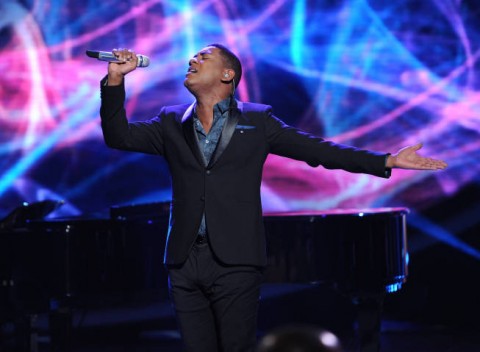 The American Idol 2012 Top 3 took the stage tonight and sang three songs each, and as usual, the results were mixed.
Round one was songs picked by the judges, round 2 the contestants picked their own songs and for round 3, the songs were picked by mentor Jimmy Iovine.
As always, I'll review each performance and assign the letter grade I think each deserved. In order of performance:
ROUND ONE – JUDGES' CHOICE
Joshua Ledet, "I'd Rather Go Blind." I think this was a great song choice for Joshua and the performance was as well. He handled this song perfectly because he held back a bit, then went full-on Joshua with the screaming and then threw in some scatting. It was overall a good performance. (A)
Jessica Sanchez, "My All." I didn't think this was the best song choice for Jessica. Why would the judges pick such a flat-line of a song when they constantly criticize such song choices? It was all just kind of there for. It didn't go anywhere. (B)
Phillip Phillips, "Beggin." For Phillip, this was pretty high energy. It was nice to see him doing something up tempo and still being true to who he is. I think it's one of Phillip's better performances lately. (A-)
ROUND TWO – CONTESTANT'S CHOICE
Joshua Ledet, "Imagine." Funny that I picked this song for Phillip and Joshua ended up singing it. I think my idea would have worked a little bit better. And I'm not being biased. I just didn't think this was the right song for Joshua. I've wanted wanted wanted him to do a song where he just sings and holds back all that crazy emotion and screaming and he did it, but this was just kind of a letdown in the end. I think it just wasn't the right song for him. The arrangement was just odd. (B)
Jessica Sanchez, "I Don't Want to Miss a Thing." First of all, it's pretty much the only lame Aerosmith song and it's the one everyone sings. Oh, Diane Warren. I thought this came off very high school talent show. You know, the kind where I would definitely be asleep even in the front row… (B)
Phillip Phillips, "Disease." I love Matchbox Twenty, but this isn't one of their better songs. That being said, Phillip still kept it in his zone. The song was cool, mild and that's that. Just a nice laid-back sound. But nothing to write home about. (B+)
ROUND THREE – JIMMY'S CHOICE
Joshua Ledet, "No More Drama." Great song. Good job, Jimmy. At first, when the song began and I heard the arrangement and the way Joshua was handing it, I thought, "well this is just weird." But then I really started liking it. And we got to see a magic from Joshua tonight. I still wish he was more charismatic when he's not singing, but whatever. Great performance. (A+)
Jessica Sanchez, "I'll Be There." OMG finally. I wanted to jump up and scream "FINALLY!" Jessica sings I song that I think was perfect for her. That song was just perfect for Jessica's tone. It sounded totally natural and she even looked to be enjoying herself. AND I connected with her. I think the big diva songs just always seemed so weird to me for her so I never related. I mean, she has a big voice and can handle the big notes, but it was so nice to hear her do a song with a tender tone with a few power notes thrown in here and there. Easily my favorite performance of hers to date. (A+)
Phillip Phillips, "We've Got Tonight." At first it was just him and the piano. No piano. Totally vulnerable. And he was nailing it right from the start. Then it went into the orchestra and the backup singers and it went from silver to gold. It was so tender and emotional. I wanted him to surprise us with a big note, but it was just fine that he kept it tender the whole way. It's as beautiful as the judges said. And I never agree with them. (A+)
Round three was clearly the best round of the night. Jimmy Iovine is a genius. Let him run this show, please.
And now it's the part of the recap that has not been at all easy this season. It's where I make my predictions about who will stay and who will go. This has been such a weird season because it was never clear who was doing well and who wasn't. The only person to never land in the bottom 3 this season was Phillip. So does that mean he's automatically in the finale? I don't think it's that easy. I think anything could happen tomorrow night. But I'll give this a try anyway.
(And PLEASE keep in mind, these aren't my personal choices. These predictions are based ONLY on what I think might happen based ONLY on America's votes.)
Probably Your American Idol 2012 Final Two: Joshua Ledet and Phillip Phillips.
Probably Going Home: Jessica Sanchez.
My Thinking: OK. Phillip has clearly had a strong fan base all season. And yes, that can change at the drop of a hat. But Jessica has already been voted off once. And if history has any say, the wave she's been riding since getting the judges' save expires this week. That's just an observation from past judges' saves. Joshua has been so strong the past several weeks I think his elimination is impossible. So I think I'm confident enough with that prediction. But we'll see tomorrow night.
What did you think of the performances? Who will be the final two?