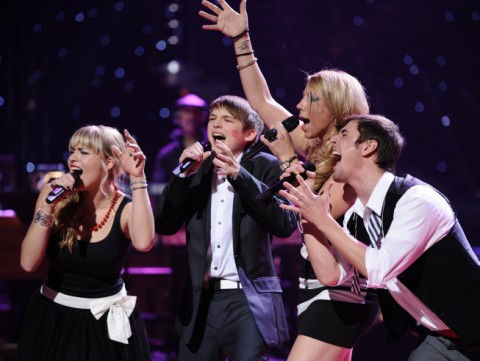 American Idol 2012 Las Vegas Week has come and gone and we got to hear some new voices, many of which will make up our Top 24.
But I have a feeling the one thing people will be talking about is that dirty move by the judges that's being called a "twist."
The contestants who made it through Day 1 were certain they had earned their spot into the Top 40. They couldn't be happier. Then the judges drop the bombshell: If Day 2 contestants are better, then more Day 1 cuts will be made. That's not a twist, that's pure bulls**t.
And some great great voices were cut after that 2nd day. All because the judges couldn't get the number down to 40? They still didn't achieve that goal. In the end, there were still 42. Before we get to the Top 42, let's talk about the talent.

The Standouts
Skylar Laine, Colton Dixon and Chase Likens. I'll try not to be biased, but Chase is from my hometown and it's great that he finally got some airtime. Colton, was a favorite of many up until the final cuts last season, so it's great to see him getting closer to the finish line. Skylar has that Reba vibe that makes her standout.
Reed Grimm and Elise Testone. I can't get enough of Reed. The fact that he's a great singer can't be argued. But I expect to get some opposition from the fact that I love his stage presence. What some people will call quirky or irritating, I call charming and entertaining. And Elise's voice sucks me in every time.
Jessica Sanchez, Deandre Brackensick and Candice Glover. Where did Jessica and her HUGE voice come from? I can't believe that amazing sound came out of such a small package. Very impressed. I remember Deandre from last season also, and I think he's gotten a lot better. Candice just kind of showed up tonight and definitely delivered.
Other standouts that I'm kind of tired talking about because they're that much of a standout: Jen Hirsh, Phil Phillips, Heejun Han and Erika Van Pelt.
At the end of Day 2, the Day 1 contestants were called back for any remaining cuts. Cut at the very last minute were: Gabi, Schyler, Angie, Candice, Johnny, Jairon and Britnee. The biggest surprise cuts were Johnny Keyser and Britnee Kellogg. Hopefully we'll hear from them again.
Next week we finally get to meet the American Idol Top 24 for 2012. Who do you hope makes it to the live voting rounds?