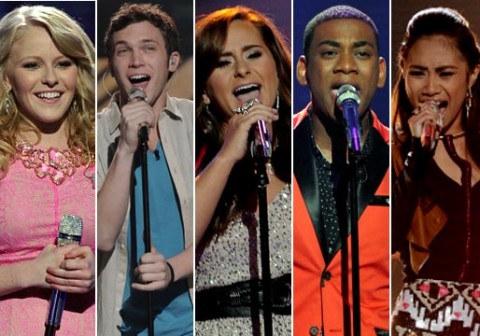 We're getting down to the end of American Idol 2012 so let's see where your votes are placing the few remaining Idol Hopefuls for Season 11. Over twelve thousand votes were cast in our Top 5 poll last week and once again it correctly predicted the lowest vote-getter.
Jessica Sanchez broke the half-way mark this week with 51% of the vote. As fewer singers remain there seems to be more coalescence behind her than the other singers. If official voting was international then Jessica could probably win this whole thing without even showing up for the last two weeks. We'll have to wait and see if she can draw enough domestic support to be the first eliminated singer to come back and win it all.
Randy Jackson might not be a "Holliepop," but he admitted Hollie Cavanagh had a big week last week. Hollie placed second in the poll with an impressive 16% which gave her the best she's earned all season here on the site. Of course it still wasn't enough to keep her out of the Bottom 2 last week so that won't give her much so much comfort. Hollie will be the favorite to go home again this week after taking over Elise's vacation home in the Bottom 3. Can she have an even bigger week this time around to avoid that elimination?
Joshua Ledet continues to ride the middle of the pack with 13% of the vote last week. Other than a stand out week for Joshua back during the Top 11 where he pulled in 26% of the vote there's been rather mild support here on the site. Of course mild is better than vacant, but mild won't win you the competition even if the judges say you are "the best singer on Idol EVAH!" Ledet does go in to this week well positioned for a chance at the American Idol 2012 finale, but he'll need to do a lot more if he wants to win it all.
Phillip Phillips looked like he was in a potentially dangerous position after coming in second to last in our poll, but when the time came for official results he was sent to the safe zone. Following the trend of the past four seasons it seems like Phillip has this season in the bag. When you have an off night like he did last week with only five singers left and you don't fall in to the Bottom 2 then you know there's little wrong he can do in the eyes of his fans. I'm definitely expecting Phillip to head on to the finale.
Last but not least, well I guess it was least when it came to the votes, is Skylar Laine. Pulling in just 8% of the vote here put her in the hot seat both in our poll and on the show. It was her second week in a row in the Bottom and despite being the only country act left in the show she couldn't draw the support she needed to stay in the race. After last season's finale showdown between two country performers you'd think there'd be support for at least one this time around, but maybe last season was a one-off. Either way, the lowest vote getter here was once again the lowest vote getter on American Idol 2012. Well done, readers.
This week will keep the pressure on especially for Hollie who will have to defy the odds and pull out her biggest week yet if she wants to move on to the end. Anything can happen so keep watching and get ready for more American Idol!
click graph for full-size view