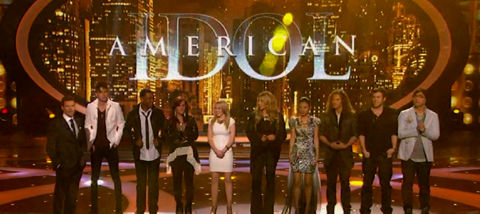 The American Idol 2012 Top 9 are set to take the stage and perform songs from their own musical idols tonight on American Idol. Legendary Stevie Nicks will join Jimmy Iovine for rehearsals this week so get ready for a great show.
See what other American Idol fans are saying right now on our Idol Facebook page and join us in our Idol chat room while we review tonight's live show.
American Idol 2012 Top 9 Performances:
Colton Dixon – Everything – 1-866-436-5701
Skylar Laine – Gunpowder and Lead – 1-866-436-5702
Heejun Han – A Song for You – 1-866-436-5703
Hollie Cavanagh – Jesus Take the Wheel – 1-866-436-5704
DeAndre Brackensick – Sometimes I Cry – 1-866-436-5705
Jessica Sanchez – Sweet Dreams – 1-866-436-5706
Phillip Phillips – Still Rainin' – 1-866-436-5707
Joshua Ledet – Without You – 1-866-436-5708
Elise Testone – Whole Lotta Love – 1-866-436-5709
Download tonight's American Idol Top 9 performances on iTunes.
In addition to the Top 9's solo performances the finalists were grouped in to trios to perform medleys. Colton, Phillip, and Elise performed a Fleetwood Mac medley. DeAndre, Heejun, and Joshua performed a Michael Jackson medley. Hollie, Skylar, and Jessica came together as a trio for the Madonna medley.
After the last performance I'll add a poll so you can vote for your favorite. Share your thoughts below on tonight's show and who was the best!