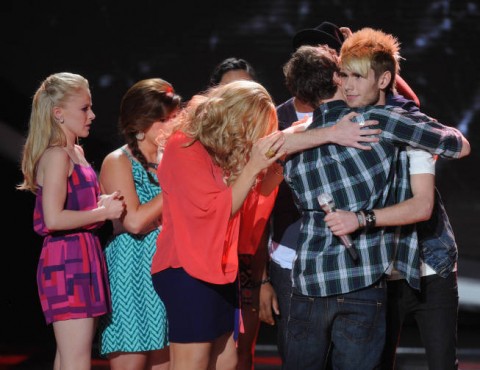 The American Idol 2012 judges were as shocked as the rest of America last night when once-presumed frontrunner Colton Dixon was eliminated from the competition. So what did they have to say following the shocking news?
Jennifer Lopez clearly wouldn't have sent Colton home if the decision was hers, but she understands how it happened.
"He was definitely in my Top 5," Jennifer said. "But at the end of the day, you have to have a great performance every time."
Randy chimes in in his usual I-don't-really-care-and-won't-even-act-like-it monotone.
"It's tough," Randy said. "We didn't want to see him go tonight. But we used the save with Jessica last week."
The judges all agree that Colton didn't have to win American Idol to put his stamp on America and that he should have no problems finding his career in music.
Show mentor Jimmy Iovine was as matter-of-fact as always. If you want to get a good understanding of what's going on with the show, look to Jimmy.
"I thought there was a heavy girl vote going in for all these guys," Jimmy said. "I didn't think he'd get voted off for one performance. I did not think the performance last night (Wednesday) was good at all. I thought it was his worst performance and he got voted off for it. Which actually is a healthy thing for the show. I think it should be based on what you did that night."
Like the judges, Jimmy doesn't think Colton will have any issues having a music career.