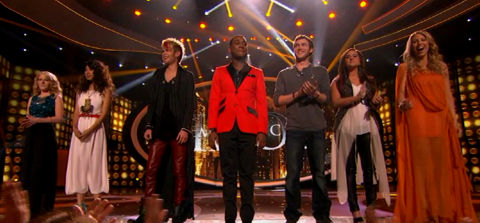 This week on American Idol 2012 the ratings took a dive despite the previous week's lead-in of nail-biting results and outcomes. Looks like Nigel will have to start thinking overtime if he wants to generate enough buzz to make things spike every week.
During the Wednesday's live American Idol performance show where each of the remaining seven finalists performed two songs the ratings took an approximate 6% dip in the key 18-49 demo over the previous Top 7 round ratings but still managed to pull in 16.9 million viewers.
Meanwhile on Thursday things weren't holding last week's momentum either. American Idol 2012 dropped 9% from last week's "shocking" results show which led to a tie with its previous low in ratings for the entire series. This week Ryan Seacrest's delivery of Colton Dixon's elimination managed to draw only 15 million viewers, down nearly a million from Jessica Sanchez's elimination and rescue event.
Wednesday's viewership of nearly 17 million really isn't bad at all, but again I'm surprised by such a low number for the results show in comparison. After all that drama last time around definitely had me anxious to see what was going to happen. Do you ever skip the results show and just check here instead?
Source: TV By The Numbers