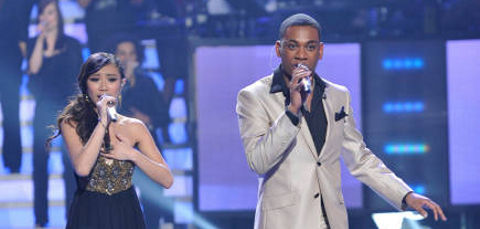 The American Idol 2012 Top 8 performed their favorites from the 80's last night and in a few hours we'll find out who goes home, but for now let's enjoy last night. Here are the top 3 performers based on your votes in our poll of "who was the best?" If you haven't voted yet in our unofficial poll then get over there and do it now!
Jessica Sanchez: "How Will I Know?"
Skylar Laine: "Wind Beneath My Wings"
Joshua Ledet: "If You Don't Know Me By Now"
At the time of writing this, it was a close race between Joshua Ledet and Phillp Phillips for third place in this week's poll. Both had a great performance last night, so I'm not surprised how tight the race is right now.
Based on these American Idol 2012 performances, should these three singers be this week's Top 3? Don't forget to vote in our Top 8 poll.