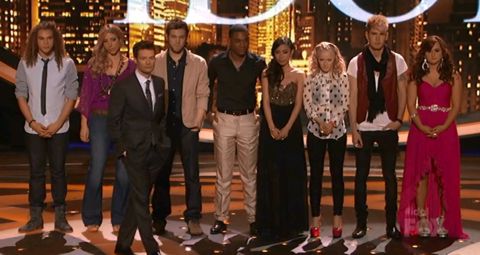 Get ready for the 80's! The American Idol 2012 Top 8 performances will feature selections from the decade of rock and excess tonight but from what we've seen so far of tonight's songlist spoilers there won't be much rock at all.
See what other American Idol fans are saying right now on our Idol Facebook page and join us in our Idol chat room while we review tonight's live show.
Download the American Idol Top 8 studio performances now
American Idol 2012 Top 8 Performances:
DeAndre Brackensick – I Like It – 1-866-436-5701
Elise Testone – I Want To Know What Love Is – 1-866-436-5702
Phillip Phillips – That's All – 1-866-436-5703
Joshua Ledet – If You Don't Know Me By Now (Watch it) – 1-866-436-5704
Jessica Sanchez – How Will I Know (Watch it) – 1-866-436-5705
Hollie Cavanagh – What A Feeling – 1-866-436-5706
Colton Dixon – Time After Time – 1-866-436-5707
Skylar Laine – Wind Beneath My Wings (Watch it) – 1-866-436-5708
Colton Dixon and Skylar Laine performed the Kenny Rogers and Dolly Parton duet "Islands in the Stream." Hollie and DeAndre did a duet of The Pointer Sisters' "I'm So Excited." Phillip and Elise tackled "Stop Dragging My Heart Around" originally by Stevie Nicks and Tom Petty. Jessica and Joshua closed out the duets with "I Knew You Were Waiting For Me" by Aretha Franklin and George Michael.
After the final performance I'll add a poll so you can support for your favorite. Share your thoughts on tonight's Idol show and who was the best!