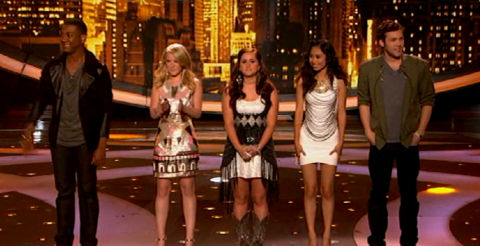 Dim the lights. We're about to find out who got voted off American Idol 2012 tonight as Ryan Seacrest reveals the news. Both Carrie Underwood and Coldplay will help fill tonight's American Idol results show as we learn who moves on to this season's Top 4 and who leaves to await the summer tour. I've made my predictions for what could happen tonight, but now it's time to know for sure.
Download the American Idol 2012 Top 5 studio performances!
While we wait for the American Idol results, join us on Facebook & Twitter.
American Idol 2012 Top 5 – Bottom 2:
Hollie Cavanagh
Skylar Laine
American Idol 2012 Top 5 – Elimination Results:
The following singers are safe and make up your American Idol 2012 Top 4:
Joshua Ledet
Phillip Phillips
Jessica Sanchez
Hollie Cavanagh
What do you think? Did the right singer get voted off American Idol tonight?