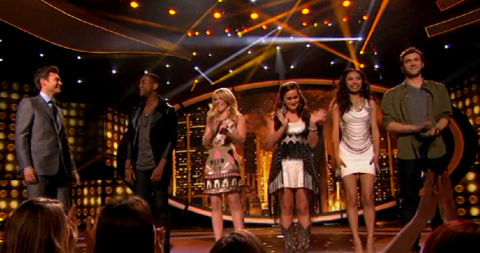 Last week on American Idol 2012 we didn't have a "shocking" elimination, but this week I think we could be looking at a surprise when it comes time for the lights to dim and the results to be read. Time to take a look at how everyone is voting in our Top 5 performance poll.
Jessica Sanchez is handily winning our poll here, but when America voted her out earlier this season it proved that we can't rely on her status here to reliably predict the show's results. All the same, I don't think this is her week to go and she can thank her fellow Top 5 finalists on American Idol.
Making an impressive leap this week is Hollie Cavanagh with 17% of the poll at the moment. She's comfortably in second place which sounds great until you realize it's the last position before the Bottom 3. The walls are starting to close in on these singers! After last week's near-elimination an escape from the bottom would be a big victory for Hollie.
If those top two spots are accurate then we could be in for a surprising row of singers at Ryan Seacrest's Stools O' Sorrow. Joshua Ledet, Skylar Laine, and Phillip Phillips round out the rest of the poll with 12%, 10%, and 10%, respectively. Considering JLo declared Joshua one of the best singers in the "past 50 years" then it should be "shocking", downright shocking I tell you, to see him in the Bottom 3. Well, I wouldn't find it shocking, but the judges will be devastated for sure.
Skylar and Phillip holding down the last two seats is somewhat more surprising. Somewhat because Skylar took a visit to the danger zone during last week's results show, but Phillip coming in at the bottom of our poll is quite a change of pace for WGWG. If Phillips exits stage right tonight I'll be "shocked" even if I'm not terribly disappointed. Breaking the streak of the four straight past seasons would be a relief, but I don't think that'll happen.
Since the voters here have offered up a tie between Skylar and Phillips I'll have to go with Skylar Laine for tonight's elimination. She's no stranger to the Bottom 3 and simply not one of the singers I envisioned as part of the upcoming finale.
Who do you think will be in tonight's American Idol 2012 Bottom 3 and which one of them will be saying goodbye?