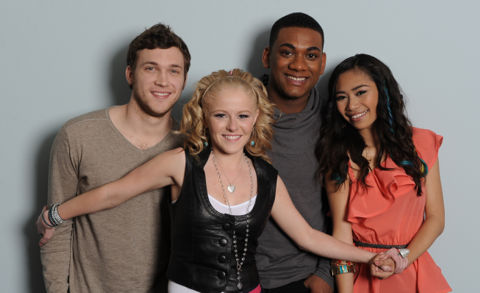 The lights are set to dim as another elimination will take place tonight on American Idol 2012. Your votes in our weekly poll have correctly identified the eliminated singer for the past few weeks, so let's take a look at the Top 4 results and see who could be sent home tonight.
Continuing her climb above the halfway mark is Jessica Sanchez with 54% of the vote in our poll. Jessica has won every week in our poll, including the week she was eliminated then saved, so while I'm satisfied with the expectation that she'll be safe we have to remember Jessica's results in these polls are skewed.
Second place this week goes to Phillip Phillips who pulled in 17% of the vote after a bit of jockeying back and forth with Joshua Ledet this morning in our poll. Last week Phillip earned the second to last seat in our poll so escaping out of the Bottom 2 here is an improvement for the man in grey and likely more in line with how the official results will turn out tonight.
Joshua Ledet comes in at number three with 16% this week with his big performances including the standout "It's a Man's Man's Man's World." The judges have dubbed Joshua the best singer evah!, the most incredibly this, and the most wonderful that, but luckily for Joshua the overabundance of praise doesn't seem to have hurt him here. I agree with your votes that Joshua will be safe tonight, but it could be close.
And then there was Hollie Cavanagh. After surging in last week's poll to the number two position she's tumbled back down to last place with only 11% of the vote. Week after week she's been in the American Idol 2012 results show spotlight awaiting Ryan Seacrest's news and I think she's ready to do it again one last time. There's no shame in leaving in fourth place and if it is Hollie's time for elimination then she should be proud of making it this far.
As a comparison to our poll results I took a look at DialIdol's predictions which put Phillip in last place and Joshua one step above him and gives Jessica and Hollie the top two spots. It's worth noting that last week DialIdol predicted Skylar and Hollie in the Top 2 and we all know how that turned out.
Branden is also predicting Hollie to be tonight's elimination sacrifice, but he considers a Hollie/Jessica Bottom 2 as a likely scenario. It's entirely possible and would definitely shake things up heading in to the Top 3 week which production would love.
Then one other potential scenario out there is playing off a fun little conspiracy theory. Tumblr user "Star Light Storm" noticed the official American Idol Twitter background mysteriously featured the Top 10 singers in the order they had been eliminated so far this season. This was pointed out last week before Skylar Laine was eliminated and sure enough, Skylar was next in the image after Elise Testone. So who follows Skylar in the group image? Phillip Phillips. Conspiracy or coincidence? I'd say coincidence, but it's certainly entertaining.
Who do you think will be in tonight's American Idol 2012 Bottom 2 and which one of them will be saying goodbye?