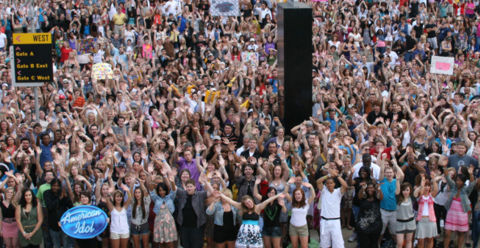 The folks at Fox kind of sneaked a little change in on us. Tonight's American Idol 2012 auditions episode in St. Louis is the final of the season and we've all realized that, but it you check back to the original Idol 2012 schedule you'll see that wasn't supposed to be the case originally.
Originally, there was one more audition episode scheduled for Wednesday, Feb. 8. It would have apparently featured auditions from Rutherford, NJ, which were stopped after the producers' round, according to multiple sources. Who wants to put money on the reason being because of a diva judge move?
At any rate, I couldn't be happier. I'm ready for Hollywood Week. As I've mentioned in previous posts, this year's American Idol auditions epsisodes just haven't been cutting it.
Of course that leaves us with the question on whether or not this change will effect the start of the live episodes. It seems somewhere along the way we'll get an extra day from Hollywood or Vegas … or some dreaded clip-type show. We'll keep you posted.
Are you happy we get one less audition episode than first thought?