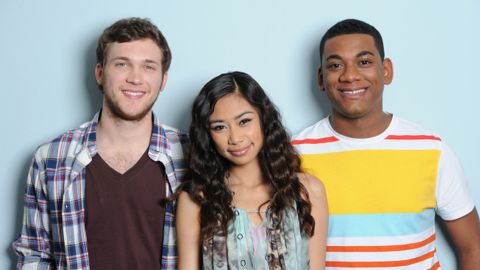 Tonight on American Idol 2012 the Top 3 singers will each perform three songs for a busy night featuring nine total performances plus any surprise, unlisted group numbers. Right now we've got your American Idol spoilers for what those nine songs will be so read on to find out. Looks like we'll have to wait until showtime to find out which one is the singer's choice, the judges' choice, and Jimmy's choice.
Perhaps the funniest part of this week's spoiler list is the picture of JLo's head with a bubble featuring her trademark "I've got goosies!" commentary. If even the show thinks she boils down to that one liner then she might be right to start questioning a return invitation for next season.
American Idol 2012 Top 3 song spoilers:
"Imagine" – John Lennon
"My All" – Mariah Carey
"No More Drama" – Mary J. Blige
"We've Got Tonight" – Bob Seger
"I Don't Want To Miss A Thing" – Aerosmith
"Beggin'" – Madcon
"I'll Be There" – Jackson 5
"Disease" – Matchbox 20
"I'd Rather Go Blind" – Etta James
Let's start hearing your predictions on who sings what on tonight's American Idol.