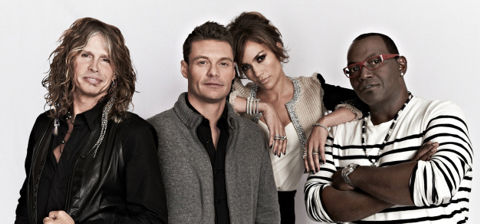 American Idol 2012 Top 10 Week ratings took a dip compared to last week's numbers. Wednesday's Top 10 performance show won the night across the networks when it pulled in over 17 million viewers for its Billy Joel night, but things weren't as good on Thursday.
Thursday night's Top 10 results fell over 10% from the previous week when it managed to only draw in 15.5 million viewers. Of course the Jermaine Jones disqualification was quite the ratings boost to last week's numbers and is likely skewing comparisons.
Next week the return of modern songs could welcome a renewed interest for viewers, but I'm not holding my breath just yet.
The nights of 25+ million viewers might be long gone for Ameircan Idol, but does it even matter as long as Idol continues to win its night and timeslots?
Did you tune in to watch this week's performances and results or just one or the other? Were the results too obvious to tune in to see or do you think American Idol fans are waiting for the competition to narrow?