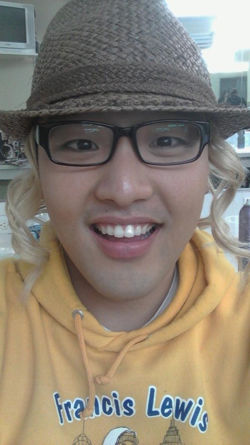 Much to many fans' chagrin Heejun Han survived this week's elimination on American Idol 2012 to carry on to next week's Top 9 performances. Following his Billy Joel rendition of "My Life" Idol judge Steven Tyler warned Heejun that he needed to start taking this more seriously. Not a problem, insists Heejun. He's already taking this very seriously.
Friday morning Heejun took to his Twitter account and let fans know that tough love from judges was welcome and he is working hard on American Idol:
"criticism makes me strong love makes me even stronger.I take this very seriously my goal is to deliver love and hope for people who needs it"
I can understand the fans who are upset that Heejun has outlasted a singer like Erika Van Pelt, but at the same time I have to remind them that neither Erika or Heejun had/have a real shot at winning American Idol 2012. Han adds a little comic relief to the show and I'm sure he knows he's on his way out very soon. He promised us something special this week if he made it through to the Top 9 so lets see if he goes out with a bang.
Are you ready for Heejun Han to be eliminated from American Idol 2012 or do you hope to see him stick around a few more rounds?