We've got our American Idol 2012 Top 13 as Thursday night's results show went almost as everyone predicted – give or take a couple surprises.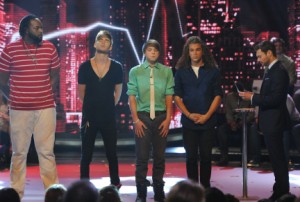 The night started off right away with the results. Ryan first asked Chase, Phillip and Jeremy to stand up. After a couple looks at their performances and some snide comments from Jimmy Iovine, Ryan welcomed Phillip into the American Idol Top 10 and sent Chase and Jeremy to wait for the wild card announcements.
The rest of the night went the same way until the Top 10 consisted of Phillip Phillips, Jessica Sanchez, Hollie Cavanagh, Joshua Ledet, Heejun Han, Shannon Magrane, Skylar Laine, Elise Testone, Colton Dixon and Jermaine Jones.
Of that ten, the one (and only) that actually surprised me was Jermaine. I thought the teen girl votes would've gone to Eben.
So next it's time to find out who the judges pick to sing for the chance at the three wildcards. First up is Jen Hirsh.
Jen's version of "Oh Darlin" was actually worse than her performance the night before. I'm not sure what happened to after Hollywood Week. She did nothing to secure her spot in the Top 13.
Next up was Jeremy Rosado. He definitely sang for his life in an emotion filled standout performance. Things were definitely looking good for Jeremy.
Brielle Von Hugel is picked to sing next and we get yet another Adele song. This time it's the very powerful "Someone Like You." And it's not a good performance. If someone is going to sing Adele they need to REALLY sing Adele. She just never really took it to a good place.
Deandre Brackensick got to flip his hair around some more with his version of "Georgia on My Mind." He's not exactly the kind of singer I want to hear, but he did a pretty decent job singing for his life.
Thankfully Erika Van Pelt was given the chance to redeem herself and redeem she did. Her version of Lady Gaga's "Edge of Glory" was quite good. She actually had great control of her voice this time around. Job well done.
And finally, Reed Grimm. I was thrilled he got his second shot at the Top 13. I've made my Reed fandom no secret so far. I just wanted to see him acting afool every week on the Idol stage. And he gave a pretty good performance this time around too. He seemed to focus more on presence than his vocals though. And that was unfortunate.
So the judges are ready for their picks.
Randy goes with Erika. JLo goes with Jeremy. And Steven picks Deandre. I'm totally bummed over Reed not making it. And I think it's kind of terrible that Creighton Fraker didn't even get the chance to sing.
What did you think of the episode and the American Idol 2012 Top 13?