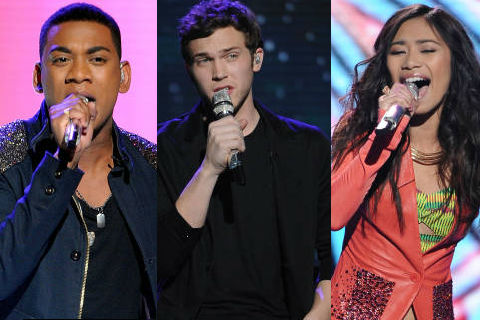 Last night the American Idol 2012 Top 3 performed for your votes and a shot in next week's season finale. Which of the three will be heading home after your votes? Will it be Joshua Ledet, Phillip Phillips or Jessica Sanchez.
We'll find out at the end of the American Idol results show tonight, which means we'll get a lot of filler and little suspense since there's not much Ryan Seacrest can do to mess with our heads when there are only three left.
Speaking of filler, OK, OK I'll stop. The entertainment for the night will be Lisa Marie Presley (I'm serious) and Season 8 runner-up Adam Lambert. Lisa Marie will perform "You Ain't Seen Nothin' Yet," from her new album Storm & Grace, and Adam Lambert is set to perform his new song, "Never Close Our Eyes." Check that song out below.
Check back later for the live American Idol 2012 Top 3 elimination and for a complete recap of the American Idol results show.
Be sure to join us on Facebook & Twitter and we'll keep you updated all season!